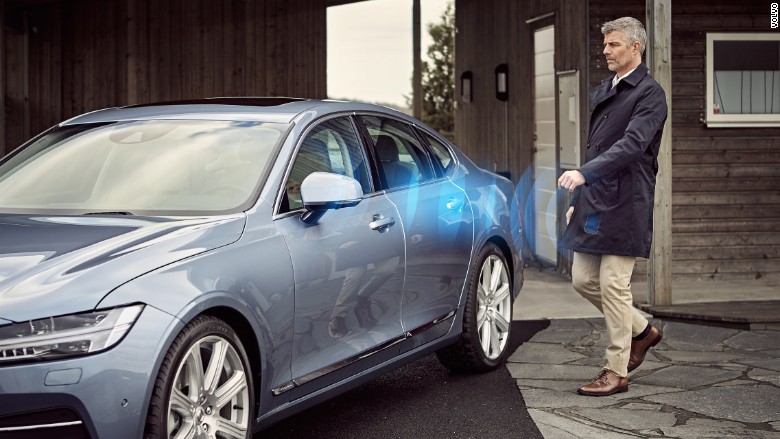 Get ready to throw away your car key.
Volvo is experimenting with letting drivers use nothing more than a smartphone app to start their cars.
The app, which is basically a "digital key," will let a driver open the door, get in, and start the car without touching the phone. Like a remote control key fob, which is widely available on new cars today, the phone can stay in the driver's purse or pocket. Proximity sensors will detect when the phone is near the car or inside it, allowing the doors to open and the engine to start.
Beginning in 2017, the "digital key technology" will be available as a small pilot project in Sweden and, maybe later, the United States. The plan is to make the option more widely available after that, a Volvo spokesman said. Volvo buyers who still want physical keys or key fobs will still be able to get them, though.
Since it's a piece of software, the "digital key" can be shared with others who can install it on their phones, as well. The owner of the car will have control over the shared digital keys and can set an expiration date or revoke them, after which they will no longer work. That will let a Volvo to owner give someone temporary access to the car without having to actually give them a key.
Related: Volvo promises death-proof cars by 2020
"Our innovative digital key technology has the potential to completely change how a Volvo can be accessed and shared," said Volvo's vice president for product strategy, Henrik Green, in a statement. "Instead of sitting idle in a parking lot the entire day, cars could be used more often and efficiently by whoever the owner wishes."
Volvo will first test the technology with its own car-sharing service, Sunfleet, which is based at Sweden's Gothenburg airport.
It developed the technology with Sweden's Ericsson (ERIC). Volvo is also based in Sweden but is owned by China's Zhejiang Geely Holding Group (GELYY).
Tesla has a smartphone app, but drivers have to punch in a security code to use it. General Motors has also said that the Chevrolet Bolt electric car will have a similar smartphone app sometime in the future.
Many automakers already have phone apps that let users remotely lock and unlock car doors and even remotely start the engine, but none of those systems allow the car to be driven without a key fob.