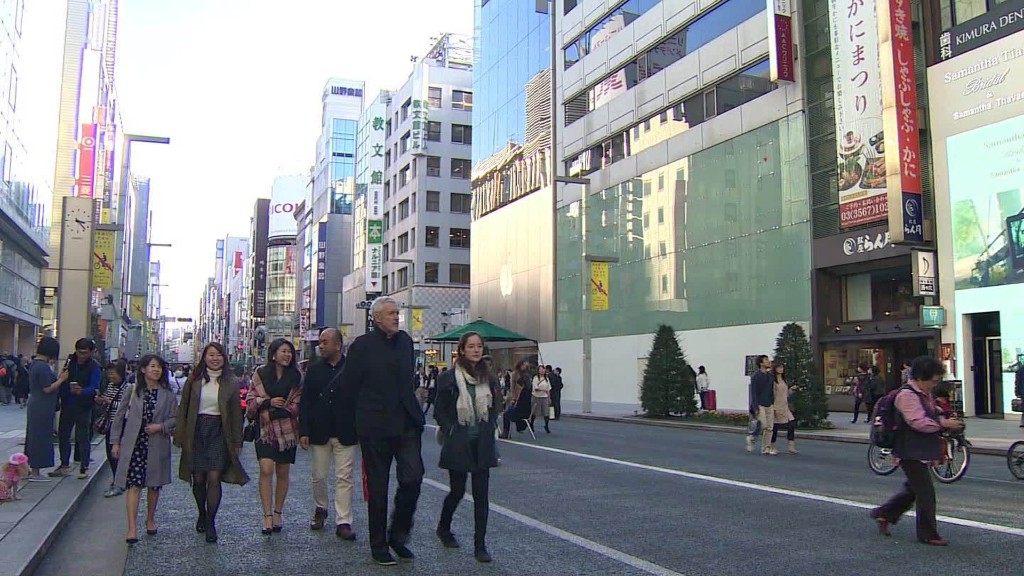 Business is booming for Airbnb in Japan, but the short-term rental website's approach is facing challenges in the world's third largest economy.
The number of Airbnb guests in the country surged 500% last year. That jump coincided with a record number of foreign visitors to Japan — nearly 20 million -- which boosted demand for accommodations in a nation where hotel rooms are often in short supply.
The Silicon Valley startup's explosive growth isn't popular with everyone in Japan, though.
Some communities -- like Tokyo's upscale Brillia Mare Ariake complex -- are banning vacation rentals altogether.
"A hotel is where the public stays. We want to keep this place exclusive," said Daisuke Hoshikawa, a representative of residents of the complex.
As well as being shut out by certain private initiatives, the Airbnb model is also running into trouble with some public authorities.
Related: Airbnb criticized over Jerusalem listings
Prime Minister Shinzo Abe's cabinet has put forward plans to regulate the renting out of private homes to travelers. The details are still being hammered out, but among the rules under discussion are a minimum stay of one week and a limit on how small the room can be.
Those conditions could leave many Airbnb hosts in the country on the wrong side of the law. Guests stay less than four nights on average, according to the company.
Local authorities are responsible for putting the rules into practice. Rather than wait for the national plan to be finalized, one district in Tokyo has already gone ahead and introduced restrictions, and a few others are working on similar moves.
Airbnb in Japan said it's taking part in the government's consultations and is "grateful for the opportunity to be involved in the policy discussion on home sharing in Japan to develop clear and simple rules." The company says it "reminds hosts of their obligation to review their local laws and regulations before listing their home."
The startup, which has been valued at more than $25 billion, has come against regulatory challenges in other markets, including New York. In November, San Francisco residents voted against tighter restrictions on short-term vacation rentals, a big victory for the website.
Related: Airbnb restrictions shot down in San Francisco vote
Some Japanese people have built businesses out of Airbnb's growing popularity in their country.
Ryoma and Mihoko Machida manage dozens of listings and also sell local art to tourists.
They say the most common complaint about foreign visitors is that they make too much noise. But quiet and courteous guests have actually made friends with their neighbors.
"That kind of guest changes Japanese minds," Ryoma Machida said.
The overall number of listings in Japan is still relatively low at around 26,000 out of more than 2 million worldwide.
But the numbers are rising fast -- and pressure on Japan's supply of hotel rooms is likely to spike in 2020 when around 8 million visitors are expected for the 2020 Summer Olympics in Tokyo. The country is also hosting the Rugby World Cup in 2019.
The question is how many Airbnb hosts will still be allowed to operate by authorities.