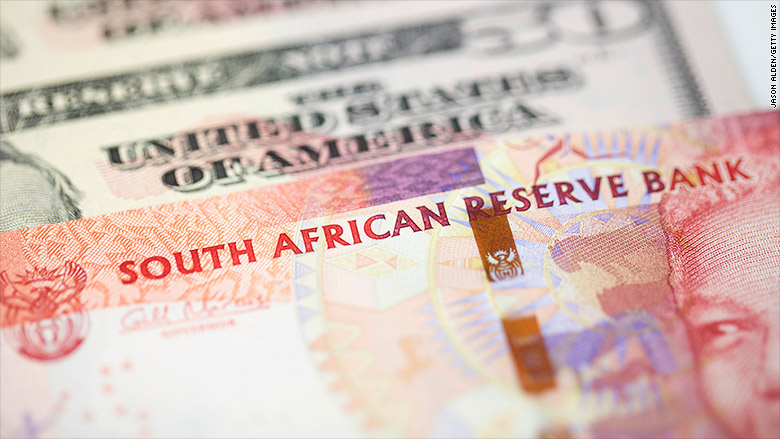 Currencies that got crushed in 2015 are showing signs of life this week.
Russia, South Africa, Brazil, Indonesia and Colombia have seen their currencies each gain more than 1% versus the dollar on Monday and Tuesday. Chile, Mexico and Turkey have made small gains too. All these currencies suffered huge losses last year.
Sparking the currency comeback was a report published Monday by the International Energy Agency, which forecast that the United States will cut oil production in 2016 and 2017.
The IEA's forecast for a U.S. oil production cut means that the price of oil could go up later this year. If oil prices rise significantly, that's good news for commodity-driven countries, which rely on exports to drive growth.
Many of these developing countries are big producers of oil. Last year, their currencies plummeted in the double digits against the dollar as oil prices tanked and the global economy slowed.
But they're picking up momentum this week and some are holding steady for the year. Those gains, however small, reflect a shift in perception that the worst might be over and the future of those countries' economies looks brighter than it did last year.
Related: Mexico peso hits all-time low worth 5 cents
"Overall sentiment feels improved," says Jim Reid, managing director at Deutsche Bank.
Some of the currencies -- South Africa, Indonesia and Chile -- are actually up against the dollar so far in 2016. Many economists forecast that much of the fall in commodity prices happened in 2015 and even if they decline a bit more this year it won't be as bad.
Related: Oil producers are selling stocks big time
Translation: the end of the painful commodity collapse could be over by the end of this year, meaning better times are ahead for developing countries.
Of course, there are exceptions and the road to recovery might be harder for some. Brazil is in the midst of its longest recession since the 1930s and there's no end in sight yet. South Africa also has some political instability and there are broad concerns that Turkey has too much debt to pay.