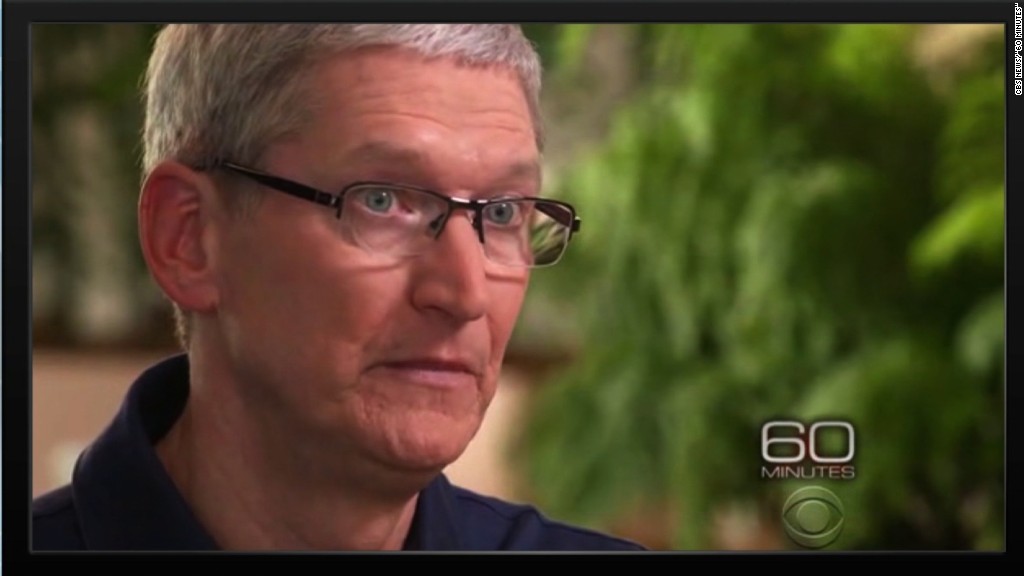 Apple's biggest problem isn't that the FBI wants a so-called backdoor to open up San Bernardino shooter Syed Farook's iPhone.
It's that the iPhone 7 hasn't come out yet.
Shares of Apple (AAPL) are down more than 10% this year and 30% below the all-time high it hit last April. The stock started its descent well before last December's tragic killings.
That means that Apple is in its own personal bear market. The stock has been mauled more viciously than Leonardo DiCaprio was in "The Revenant."
Apple CEO Tim Cook may be busy battling the FBI over privacy and security issues. That has people wondering how Apple will fare in the court of public opinion. So far, it looks like sentiment is pretty divided.
But who cares?
Related: Apple vs. the FBI in 2 minutes
If you think Apple should hand over the keys to Farook's iPhone 5c to the FBI, will you really boycott Apple, as Donald Trump has suggested?
What then? Do you buy an Android phone? With an operating system from Google -- whose CEO has publicly supported Cook?
And if you happen to think that Apple should be lauded for protecting its consumer's privacy, then what do you do?
Are you really going to buy a couple more Macs and iPads to show your support? Download the newest album from Rihanna from iTunes instead of streaming it on Tidal?
Let's be honest. It doesn't matter whether you support Apple's position or not. Or if it wins or loses the case.
What matters is that Apple is very likely to report a decline in iPhone sales this quarter -- an unforgivable occurrence for a company that's allegedly still a growth stock.
Apple stock has fallen so sharply because the iPhone 6s and 6s Plus were not as 6s-ful as investors had hoped.
The design changes were more evolutionary than revolutionary. And the bulkiness of the new models may be turning some consumers off. My wife has a 6s Plus for work. I'm considering using it to do bicep curls so my arms can get ripped.
Related: Apple promises privacy -- but not on iCloud
Worries about slowing demand from China, which now accounts for nearly 25% of Apple's overall sales, aren't helping either.
But here's the thing. Many experts believe all this iDoom and iGloom is now priced into the stock.
Shares of Apple trade for just 10 times earnings estimates for this year. That's a lower level than the broader market and a significant discount to rivals Google (GOOGL), Microsoft (MSFT) and Facebook (FB).
Angelo Zino, an analyst who covers Apple for S&P Capital IQ, is optimistic that iPhone sales will pick up again later this year after the iPhone 7 is released.
It's becoming more common for many consumers to wait for the next real upgrade of an iPhone before buying new phones. The "s" model phones are never going to get the love that a brand new version with a different number will.
Related: Will the headphone jack survive a thinner iPhone?
And according to rumors on several well-sourced tech blogs, Apple is planning some big changes for the iPhone 7. It could be waterproof. It is expected to be thinner (sayonara, headphone jack!) and also feature a dual-lens camera.
"Apple is still a growth story. But it's more based on product cycles now," Zino said. "When Apple makes big changes, consumers listen. And I expect more Android users may switch over to Apple."
Related: Congressman tells FBI to back down on Apple
Fears about a China meltdown hurting Apple may be overblown as well.
Chris Baggini, who owns Apple in the Turner Titan fund that he manages, said that Chinese banks have started to lend more to consumers this year. That could bode well for Apple's smartphone sales in China.
What's more, the three big Chinese wireless carriers that Apple has a relationship with -- China Unicom (CHU), China Mobile (CHL) and China Telecom (CHA), all recently reported strong subscriber gains for January.
"People are underestimating Apple's potential," he said.
Of course, Apple still has numerous other challenges. The Apple Watch is not going to be the next huge product for the company. iPad sales are still declining.
And while the FBI spat may not impact sales directly, having Tim Cook and others testifying in front of Congress could be a distraction for management.
But if the Apple bulls are right, the stock may not be this big of a bargain again anytime soon.
It's just 2% above the 52-week low it hit on August 24 -- the day the Dow fell more than 1,000 points in a brief global market panic.
And Apple pays a dividend that yields 2.2% -- higher than the 10-Year Treasury. Plus, it has $216 billion in cash.
It may take time for Apple to fully recover. But it would be a mistake to think that the FBI battle will push the stock down a lot further.