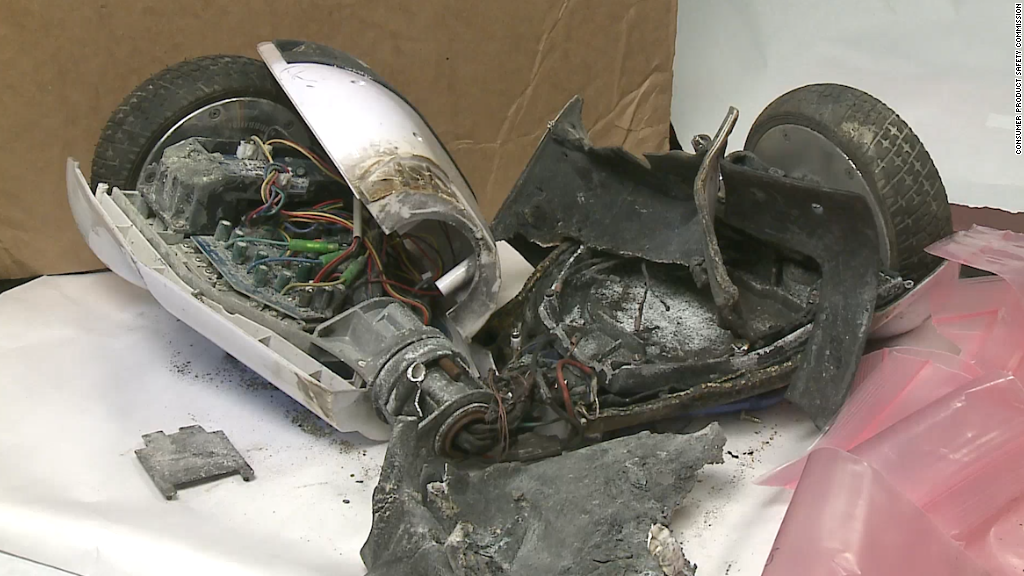 Walmart has become the latest and the largest retailer to join the growing number of outlets to pull hoverboards from its website.
Bed Bath & Beyond has also pulled the devices "out of an abundance of caution."
After some of the self-balancing scooters began catching fire and exploding, the U.S. Consumer Product Safety Commission launched an investigation into hoverboards.
On February 18, the agency announced that it would be imposing recalls if safety standards weren't met.
Walmart (WMT), the country's largest retailer, decided to stop selling the devices out of concern for customer safety, a spokesman said. Hoverboards will remain off the site until suppliers and manufacturers comply with new federal safety standards.
Other retailers such as Target, Toys R Us and Amazon (AMZN) have stopped selling hoverboards online and are offering refunds. Overstock (OSTK) was one of the first retailers to act when it announced in December that it would immediately stop selling the devices.
Related: U.S.: We'll recall hoverboards if we have to
Hoverboards have also been banned by major airlines such as Delta (DAL), United (UAL), JetBlue (JBLU) and American (AAL) because of the fire hazard they pose.
Police in London and New York City don't permit the use of these scooters on public streets and sidewalks. New York state has now banned them altogether.