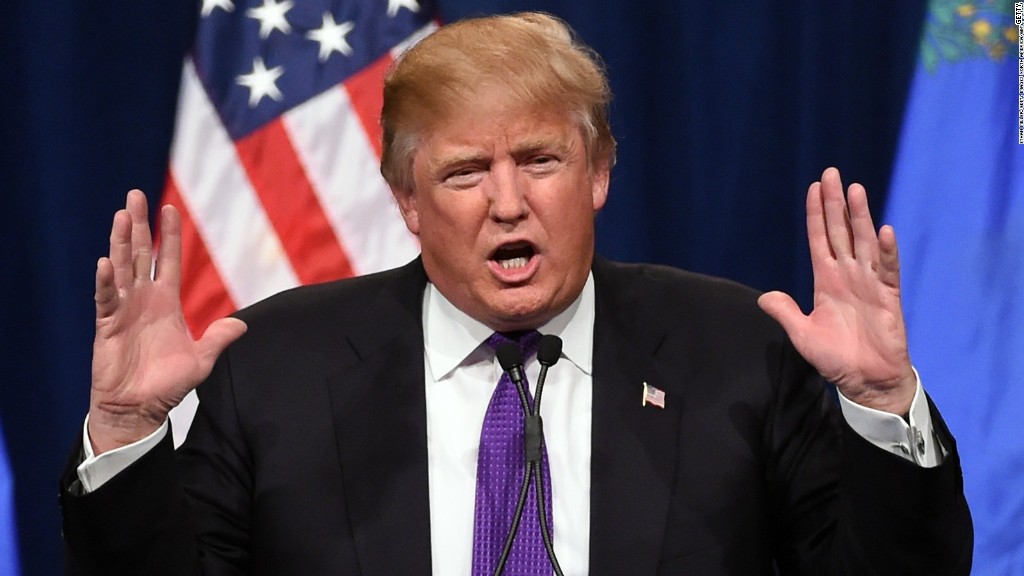 Should Federal Reserve chair Janet Yellen be worried about life under a President Donald Trump?
Trump is looking more and more like the potential Republican presidential nominee after his landslide victory in the Nevada caucuses on Tuesday.
And just two days ago, Trump tweeted that he thinks the Fed should be audited. This is something that fellow Republican candidate Ted Cruz supports as well as former candidate Rand Paul.
Trump chided Cruz in his tweet for missing a Senate vote on an "Audit the Fed" bill in January. The bill failed 53-44.
That legislation was proposed by Paul. Republican candidate Marco Rubio and Democratic candidate Bernie Sanders both voted in favor of it.
Many Republicans believe that all of the Fed's actions, including its monetary policy statements, should be audited by the Government Accountability Office.
Currently, just the Fed's financial statements are subject to a review. They are done by the accounting firm Deloitte. Those statements are available for anyone to view on the Fed's website.
Trump's tweet was the first time he specifically came out in favor of a full audit of the Fed. Could an audit make the Fed great again? Hmm.
Unsurprisingly, the Fed -- which acts independently from the White House and Congress -- is not in favor of such a plan.
Related: Trump vs. Cruz on the economy
Former Fed chair Ben Bernanke argued in January that an audit raises the risk that "reviews and recommendations concerning individual monetary policy decisions would provide a vehicle for members of Congress to apply political pressure on the Fed."
But Trump actually has already accused the Fed of being too political.
In an interview with The Hill in October, Trump said Yellen was keeping interest rates low so President Obama "doesn't want to have a recession-slash-depression during his administration."
That interview took place before the Fed raised rates for the first time in nine years in December. But rates remain extremely low.
Trump has repeatedly expressed concerns that the stock market is a bubble waiting to burst because of Fed policies.
He told CNBC in September 2012 that Bernanke's quantitative easing program of buying mortgage-backed securities was leading to "phony numbers" in the economy.
Related: Bernanke is no fan of Bernie Sanders
And speaking to Bloomberg a few days after The Hill interview, Trump was even more vocal in his criticism of Yellen.
"Janet Yellen for political reasons is keeping interest rates so low that the next guy or person who takes over as president could have a real problem," he said.
Yellen's four-year term as Fed chair ends on February 3, 2018.
That means the next president will need to quickly figure out shortly after entering the White House whether he or she wants to keep Yellen on for another four years.
Related: GOP candidates slam Ben Bernanke
Presumably, a Democratic president would renominate Yellen -- assuming she still wants the job.
But presidents have historically opted for continuity at the central bank -- regardless of whether or not their political views align with the Fed chair.
Ronald Reagan reappointed Paul Volcker as Fed chair even though Volcker was originally chosen by Jimmy Carter. Bernanke was nominated for a second term as Fed chair by Obama, after first serving under George W. Bush.
There have been only seven Fed chairs since 1951. It seems that being a Supreme Court justice or coach of the Pittsburgh Steelers are the only professions that offer greater job stability.
So it would be somewhat unprecedented for a President Trump to make drastic changes at the Fed.
Interestingly though, Trump seems to have a soft spot for Volcker -- who raised interest rates aggressively in the 1980s to fight inflation.
Trump told Bloomberg in August that even though he always loved low interest rates as a real estate developer, he thought that Volcker was a "terrific guy" who was "doing what had to be done."
Could Volcker be back as Fed chair if Trump makes it to the Oval Office? That seems unlikely.
But based on what Trump has said about Yellen, it seems he would want someone who is willing to hike interest rates far more dramatically than the current Fed.
The stock market may not like that very much though.