Its victims are all over the world, but they have one thing in common: desperation.
They are seniors suffering from debilitating illnesses, debtors struggling to get back on their feet and even families facing homelessness.
The scam is remarkably simple: people receive letters promising them that psychic guidance and talismans from the French clairvoyant Maria Duval are the secret to turning their lives around. All they need to do is send in money.
The scheme's victims quickly become convinced that Duval can help them win huge amounts of money, find professional success and overcome terrible health problems.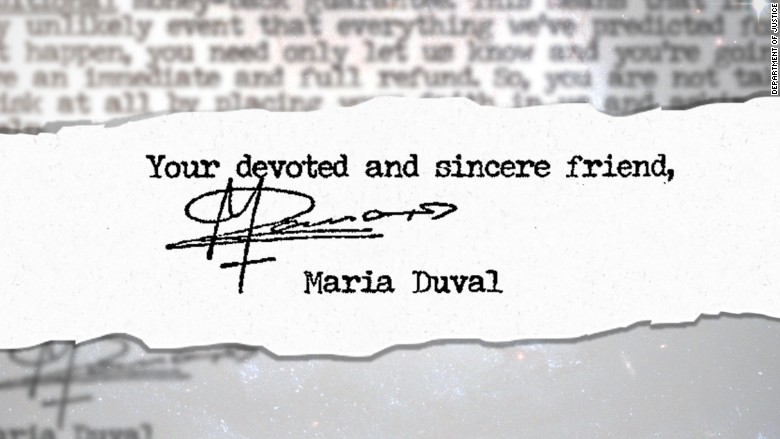 U.S. postal inspectors say that Duval is at the center of one of the largest cases of mail fraud in history -- which has raked in more than $200 million in the United States and Canada alone.
Read the full investigation: CNNMoney goes on the hunt for Maria Duval
Some investigators around the globe question whether Duval exists at all or if she is actually the creation of scam artists. But for the scheme's victims, Maria Duval is remarkably real.
And their haunting stories show just how heartless the scheme really is.
'Something tells me that I can trust you'
Many victims have written lengthy letters in response to the Duval mailings, unloading their hopes and fears to the psychic.
"I'm already thinking what I would do with all this money," one victim wrote in a letter that was recovered by the U.S. government. "My wife would not have to work anymore and would drive a newer car. So I would too. We could install air conditioning in our house." And in a note scrawled at the very bottom of the letter: "I forgot! A good amount of this money would go to the bank."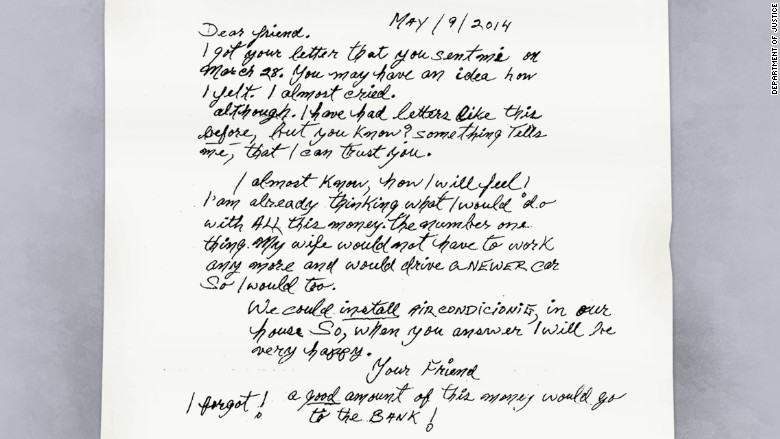 'How can you do this to an elderly person?'
Like many of those who have fallen prey to the Duval letters, Leela DeVere's mother was suffering from Alzheimer's disease when she began sending $139 a month to the psychic. The payments quickly added up to thousands of dollars. "How can you do this to an elderly person with Alzheimer's?" DeVere asked.
Want to follow our hunt? Sign up for updates here
'I am getting more broke every day'
In another letter to Duval that was taken by authorities, one person wrote that they had serious money problems and that they were struggling to afford new glasses or a dentist appointment. They apologized for not writing more often, telling Duval that they had been "in distress" with back problems. "I am getting more broke every day. I can't send what I don't have."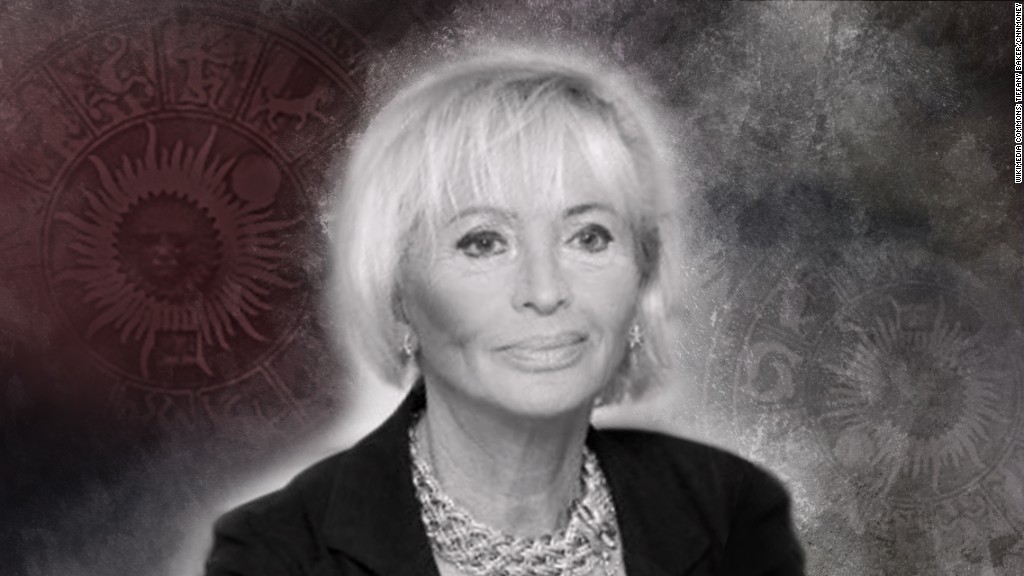 "Clare used to be a happy girl"
It's not uncommon for some victims to feel so close to Duval that they become obsessed. An article from the Evening Chronicle reported that a 17-year-old U.K. girl was found dead in a river in 1998 with a letter from Duval in her pocket. Her mother told the paper that her daughter had been corresponding with Duval for weeks before her death. "Clare used to be a happy girl but she went down hill after getting involved with all this," she said.
'They have made an independent elderly man dependent on his children'
Online consumer forums are filled with complaints from victims and family members about Maria Duval and the financial and emotional toll of her letters. One complaint, from a resident of British Columbia, tells of an elderly father who sent $6,000 to the psychic hoping to win money. "Now he is broke and nothing came true. I hope these [people] are not able to sleep at night."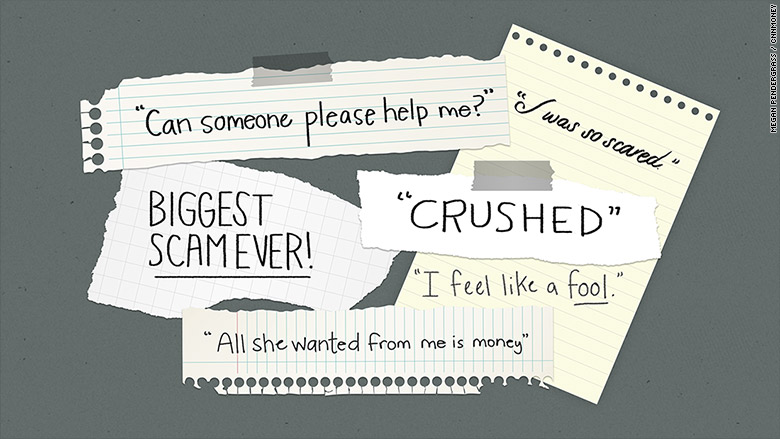 'She was eagerly waiting on my disability check'
Someone who said they were suffering from brain cancer wrote in an online forum that Duval would send "panicky" letters demanding $45 twice a month -- ultimately costing the person around $1,500 in disability benefits. "She can never have enough. She is the biggest scam ever."
'I couldn't eat or sleep worrying whether I'd be hit by more bad luck.'
In some cases, the Duval letters have taken a more sinister tone -- suggesting that misfortune awaited those who ignored her. In 1997, one woman told the Scottish Daily Record & Sunday Mail newspaper that she was terrified of what would happen if she didn't send money.
Who is Maria Duval? Email us with your stories, theories and feedback
"When I wrote to say I didn't have that kind of cash, the letters got even more frightening," she said at the time. "I was so scared I couldn't eat or sleep worrying whether I'd be hit by more bad luck. I was convinced I'd need further heart surgery and this time I might not survive."
'I feel like a fool'
A mother of five living on a fixed income thought that sending money to Duval would help bring about a better life for her children. "I have sent this woman lots of my money where I could not pay my bills," she wrote in a consumer complaint forum. "Yes I feel like a fool, but when you receive [these] letters over and over you feel like a failure if you did not send it in to get a better life for your children."
'I was so desperate for some kind of hope'
A Michigan woman wrote in an online complaint that Duval's letters came to her in some of her darkest days -- after separating from her husband, watching her son join the military and losing her job. "This scam crushed the last bit of hope I had in any kindness or miracle that could be, and pushed me over the edge," she wrote. "Congrats! You got another weak one."
'He is now bankrupt and at the mercy of the state'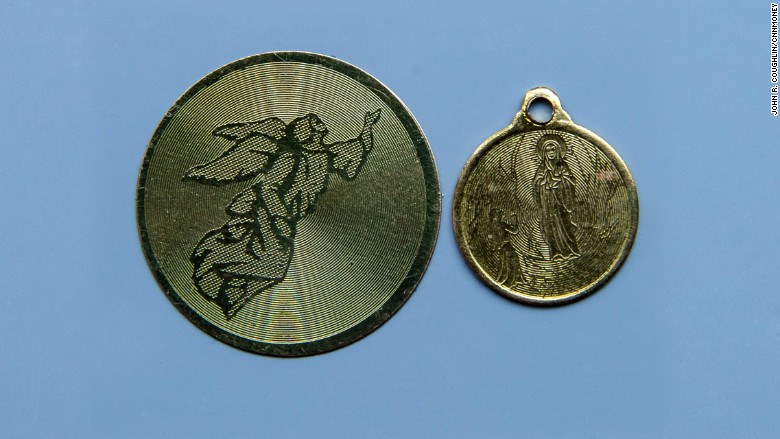 A Milwaukee resident wrote online about their 96-year-old father-in-law who refused to believe that the Duval letters were a scam and even tried to send a cash payment after his family closed his bank account. "He is so desperate for money that he pins all his hopes on this."
"I live on Social Security"
An 82-year-old Oregon widow said she regretted the day she first sent money to Duval. Even after realizing it was a scam, she wrote in an online complaint that money continued to be deducted from her checking account. "I live on Social Security, so don't have very much money. Can someone please help me?" she wrote in 2009.
'I am homeless and $5000.00 in debt'
A Utah resident said they ended up in even worse financial shape after sending money to Duval. "All she wanted from me is money. Now I am homeless and $5000.00 in debt," the person wrote in an online complaint. "I need dental care, and I have no money to pay."