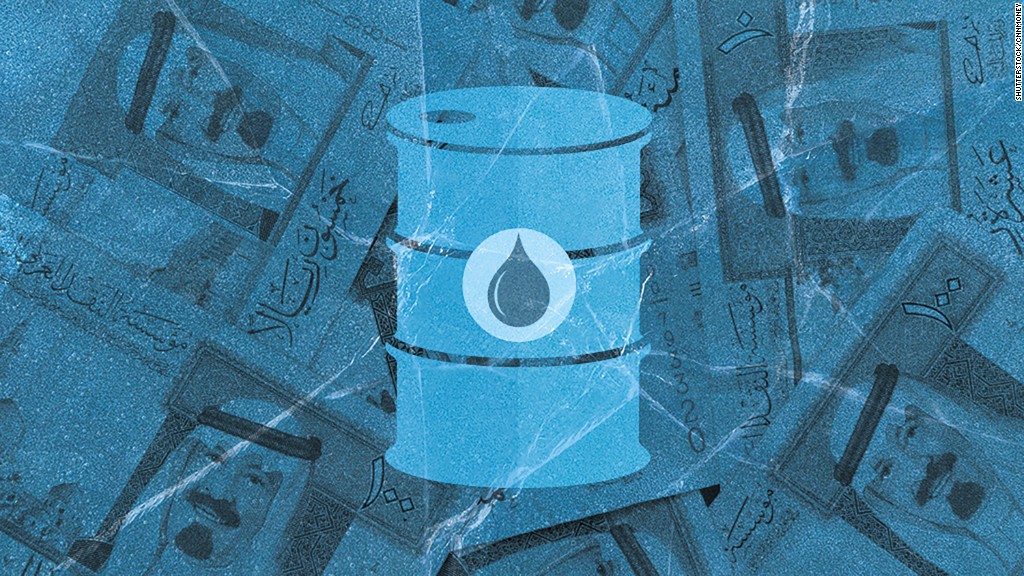 Oil prices could move back above $50 a barrel within a year as an OPEC initiative to freeze production gains support, and smaller producers go to the wall.
That's the view of Qatar's energy minister, Mohammed bin Saleh al-Sada, who also holds the rotating presidency of OPEC.
"At the moment the best possible feasible proposal is to freeze at the level of production of January," al-Sada said in an exclusive interview with CNNMoney on Thursday. "We think [a production freeze] will gather more and more approval because it is [in] the interest of all parties."
Five of OPEC's 13 members -- Saudi Arabia, Kuwait, UAE, Qatar and Venezuela -- plus Russia, have agreed to keep output steady. The idea is that by freezing production the countries will be able to fight a global supply glut, and save their endangered economies.
But oil markets continue to be rattled by chaos within OPEC. Iran has blasted the production freeze as a "joke", and Saudi Arabia says it is not prepared to cut output.
Iran is on a mission to ramp up oil production now that sanctions have been lifted. But the country's return couldn't have come at a worse time for an oil market already drowning in excess supply.
Al-Sada said Iran had voiced support for "any measures" to stabilize the market, but admitted it had also asked for "special consideration."
"That is their position of course, and we respect their position," he said.
Iraq also wants to boost production as it tries to rebuild its war-shattered economy.
Related: What it costs to produce oil
Crude oil prices have plunged 70% since 2014, and have twice dipped below $27 per barrel this year.
Al-Sada said the situation is untenable for both traditionally oil-rich nations and other producers. He said production was likely to fall in coming months as smaller companies with limited access to finance are forced out of the market.
The current situation "is absolutely not a sustainable one," but a year from now prices may well top $50 a barrel, he added, as over 500,000 barrels per day of higher cost production come off the market.