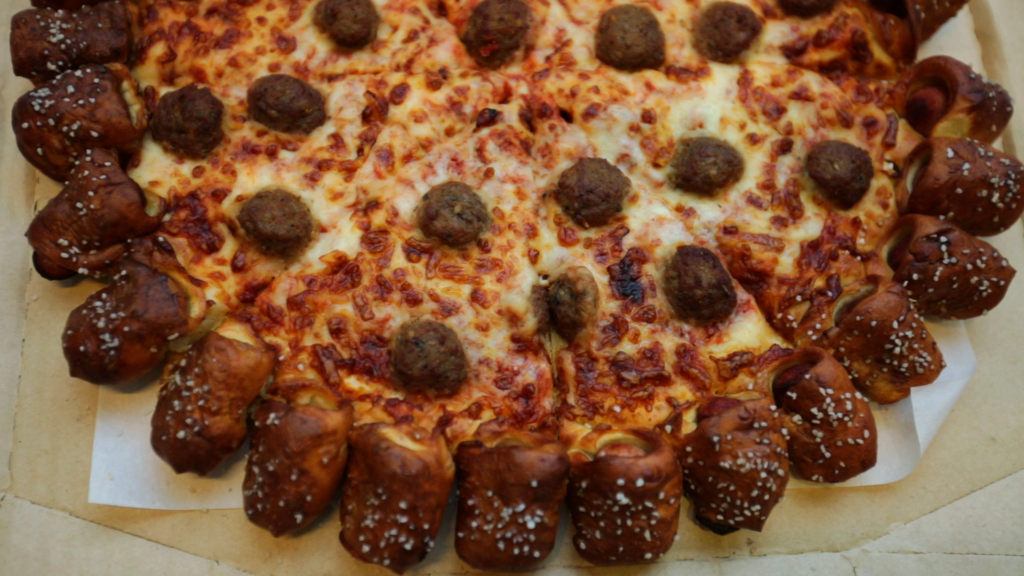 Forget plastics. If someone in Hollywood does a remake of "The Graduate," there's a new word beginning with the letter P that Mr. McGuire should say to Benjamin.
"Pizza."
Exactly how do I mean? There does seem to be a great future in pizza. Will you think about it?
Domino's (DPZ) just reported strong sales and earnings on Thursday. Same-store sales in the U.S. were up a stunning 10.7% in the fourth quarter.
The stock soared 12% on the news to an all-time high and is up 18% so far in 2016. That's a lot of dough (sorry) in a market that's been as smelly as anchovies (sorry again) this year.
Meanwhile, Domino's rival Papa John's (PZZA) reported results on Tuesday that would make its Super Bowl champion endorser Peyton Manning proud. Overall same-store sales rose 3.4%, led by a more than 5% jump internationally.
The stock shot up nearly 10% on Wednesday and is also in positive territory for 2016.
Both stocks have been doing well for quite some time. They've each trounced the broader market over the past five years.
Papa John's has gained more than 300% while Domino's is up nearly 700%. The S&P 500 is up just 46%.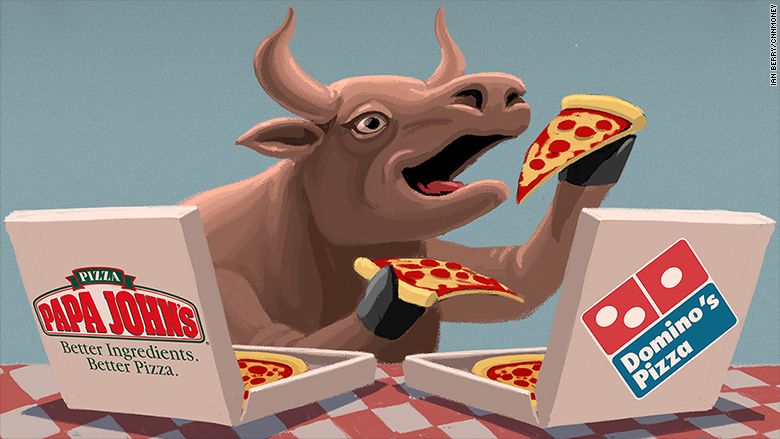 The companies are clearly benefiting from the seemingly insatiable appetite that Millennials have for pizza.
Data provided to CNNMoney last year by PayPal (PYPL)-owned money transfer service Venmo showed that pizza was the most popular thing 20-somethings spent their money on.
And the two big pizza chains have aggressively gone after these consumers by bulking up their digital offerings to make it easier to order their favorite pie.
Domino's has been particularly successful. The company said Thursday that more than half of its U.S. sales came from digital channels at the end of last year.
In addition to its smartphone app, Domino's customers can order from Ford cars using the automaker's Sync technology, Samsung smart TVs and Pebble smartwatches. They can also tweet or text a pizza emoji.
Papa John's is also touting its better ingredients as more and more consumers focus on what's in the food they eat.
The company announced in December that the chicken on its pizzas would be antibiotic free by this summer. The company followed that up last month with a promise to remove artificial flavors and synthetic colors from its entire menu.
Domino's and Papa John's are also taking advantage of the weakness at Pizza Hut. Yum Brands (YUM), the owner of Pizza Hut, recently reported that Pizza Hut's sales barely rose last year.
Analysts are expecting healthy levels of sales and earnings growth for the first quarter as well.
That makes sense given the big sporting events at the beginning of the year, most notably the Super Bowl and next month's NCAA college basketball tournament. Pizza and TV watching go together like peanut butter and jelly. (But no PB&J pizza please. Yuck!)
So I understand why the stocks are doing as well as they are -- even though I personally don't find the food from these chain pizza companies to be all that appealing. But hey. I live in Brooklyn ... where good pizza is pretty easy to find. By the slice.