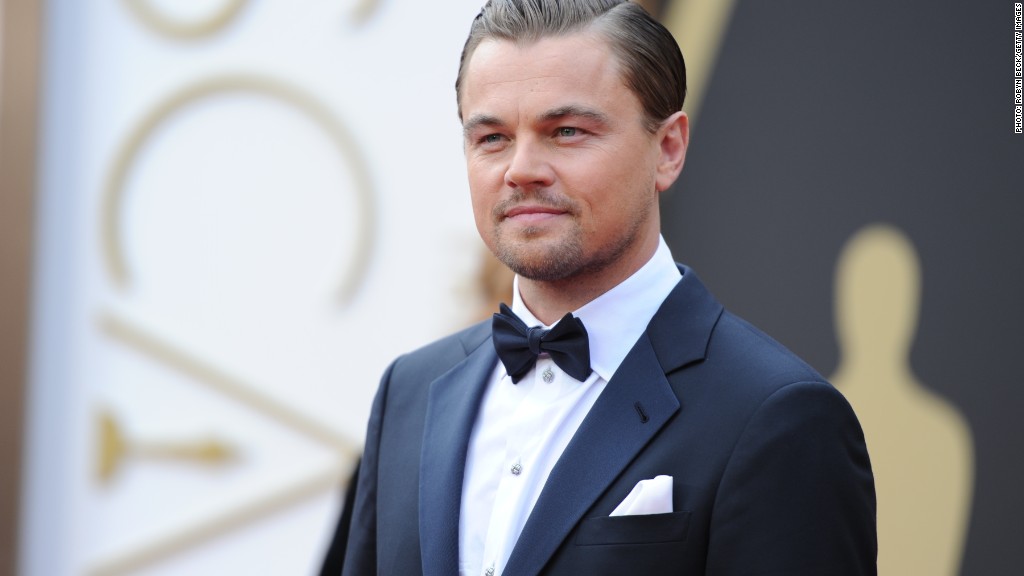 Leonardo DiCaprio has accomplished almost everything an actor can in Hollywood. He's starred in blockbusters like "Titanic," has worked with directors like Martin Scorsese, and played iconic roles like Jay Gatsby and Howard Hughes.
But DiCaprio has never won an Oscar.
DiCaprio has been nominated as an actor four times for roles in "What's Eating Gilbert Grape," "The Aviator," "Blood Diamond," and "The Wolf of Wall Street."
The star ended up losing to Tommy Lee Jones in "The Fugitive" in 1993, Jamie Foxx in "Ray" in 2004, Forest Whitaker in "The Last King of Scotland" in 2006, and Matthew McConaughey in "Dallas Buyers Club" in 2013.
DiCaprio also lost once as a producer when "The Wolf of Wall Street" was nominated for Best Picture in 2013.
He is nominated again at Sunday's 88th Annual Academy Awards, and is the overwhelming favorite to win Best Actor for "The Revenant."
DiCaprio is such a favorite to win that his victory has been predicted by Entertainment Weekly, The Associated Press, FiveThirtyEight, and USA Today. Online betting sites have put his odds at 1-to-100.
Related: Ranking 16 years of Oscar winners
While there have been past nominees who were predicted to win and ultimately lost, a DiCaprio loss on Sunday would be a complete shock.
"People were predicting DiCaprio would win a year ago, and were pulling for him to win a year ago. I've never seen that," said Tim Gray, the awards editor for Variety.
Gray said that winning an Oscar can change an actor's career as well as their salary, which is why so many vie for the award.
But with DiCaprio's résumé, the award may not change much.
He has already won multiple awards for his work, brought in over $6.7 billion at the worldwide box office, and is one of the most recognizable stars on the planet -- going as far as to become an Internet meme.
So if he does go home empty handed on Sunday, it's doubtful his reputation would be greatly impacted, if at all.
Plus, he would find himself in the company of some of Hollywood's biggest names.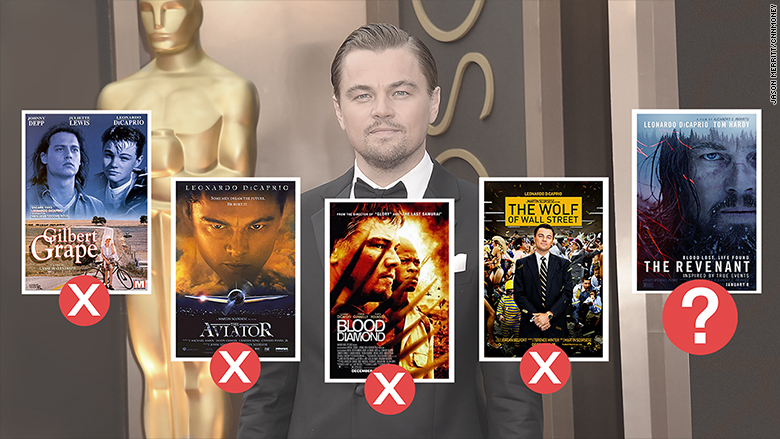 Related: Oscar odds: Favorites and longshots for Hollywood's big night
Actors like Harrison Ford, Samuel L. Jackson, Tom Cruise, Amy Adams, Will Smith, Johnny Depp, Bradley Cooper, Robert Downey Jr., Glenn Close, and Peter O' Toole have all been nominated, but never won. In fact, O' Toole, who starred in the classic "Lawrence of Arabia," went 0 for 8 over his career. (O'Toole was later given an honorary Oscar at the end of his career.)
Despite DiCaprio's accomplishments, the Oscar will always be an important point of pride in the industry and for an actor's career.
"I remember reading about Richard Burton, who went 0 for 7 at the Oscars, saying that he really hoped to win because he wanted the first line in his obituary to read 'Oscar winner Richard Burton' rather than 'Multiple Oscar nominee Richard Burton,'" Gray said. "We all grew up with the Oscars, it's the pinnacle."
If DiCaprio finally wins an Oscar on Sunday, the award would be more of an affirmation of an illustrious career rather than a defining moment.
And if he doesn't, he'll still be Leonardo DiCaprio -- but just 0 for 6.
"He's in that rarefied category," Gray said. "Whether he wins on Sunday or not, he'll still be a superstar."
Related: Here are 8 golden facts about this year's Oscar nominations
Red carpet coverage of the 88th Annual Academy Awards begins at 7 p.m. ET this Sunday on ABC. The ceremony hosted by Chris Rock begins at 8:30 p.m.