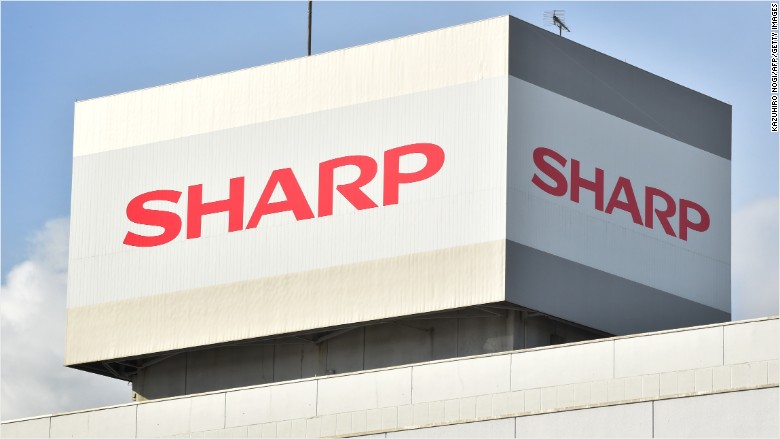 A potential tie-up between two important Apple suppliers in Asia was cast into doubt Thursday just hours after one of them announced the multi-billion dollar takeover.
Struggling Japanese electronics firm Sharp (SHCAY) said it had agreed to be acquired by Taiwan's Foxconn, a huge contract manufacturer that plays a key role in assembling iPhones.
Under the plan, Foxconn would buy shares in Sharp worth 589 billion yen ($5.25 billion), Sharp said in a statement. Hours later, Foxconn called the whole deal into question.
It said it told Sharp on Wednesday night that it was postponing signing a definitive agreement while it reviewed "new material information" received from the Japanese company earlier that day.
Foxconn didn't say what the information was. A Sharp spokeswoman declined to comment on Foxconn's statement.
But the bizarre series of events raises questions about why Sharp went ahead and announced the deal if it knew Foxconn was getting cold feet.
By buying Sharp, Foxconn would get its hands on the Japanese company's display technology that Apple (AAPL) uses in some of its devices. That could bring it more leverage with the U.S. technology giant.
The deal would also give it access to consumer markets through a recognized brand, analysts say. But Foxconn would be paying a big chunk of change for a heavily indebted, loss-making company.
Related: Foxconn and Xiaomi are pouring billions into India
Sharp, which traces its roots back to the early 20th century, has been mired in difficulties in recent years. It has been trying to restructure its troubled liquid crystal display (LCD) business after heavy investment in big TV sets failed to pay off.
For the last nine months of 2015, Sharp posted a net loss of 108 billion yen (about $960 million).
The potential acquisition is a gamble for Foxconn CEO Terry Gou, who would face the challenge of turning around the ailing company's operations.
Analysts at investment and research firm Bernstein say they don't think the deal would be a good one for Foxconn shareholders because the company would be paying more than Sharp is worth.
Investors in Sharp were also unimpressed by the plan, which would involve the creation of more than 3 billion new shares at a significant discount to the stock's current price on the Tokyo exchange.
Sharp shares, which had gained more than 30% in recent weeks on speculation about the takeover, nosedived 14% after details of the deal were announced.
Issuing the new shares will require shareholder approval, the company said. If the deal goes through, it would be one of the biggest foreign takeovers of a Japanese corporation.
Sharp has also held talks with Innovation Network Corporation of Japan over a possible deal.
-- Junko Ogura contributed to this report.