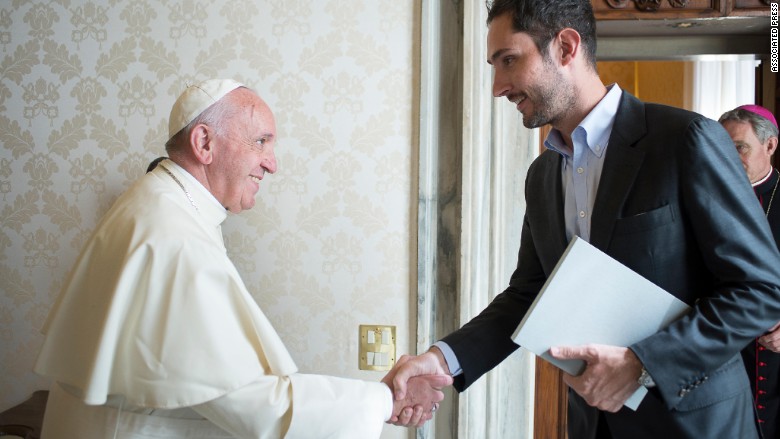 Instabragging doesn't get better than this.
Instagram CEO Kevin Systrom met with Pope Francis on Friday to discuss "the power of images to unite people across different cultures and languages," according to a post on Systrom's account.
The meeting took place at the Apostolic Palace in the Vatican.
"Today I had the honor of meeting Pope Francis," Systrom wrote. "It was by far one of the most memorable experiences of my life!"
According to an Instagram spokesperson, Systrom gave Pope Francis a book with ten specially-selected Instagram photos taken around the world.
The handpicked photos captured migrants in the Middle East, climate change in the arctic and the aftermath of the Nepalese earthquake.
Related: Twitter is losing customers and its stock is falling
The Official Vatican Network also posted a photo of the meeting on Instagram, along with the caption that this was "more than a photo op." The post contained the hashtags: #PopeFrancis #PapaFrancisco #PapaFrancesco #Vatican #Vaticano #YearofMercy #catholic.
Pope Francis and the Vatican have gravitated to social media and used various platforms to maintain contact and communicate with Catholics around the world.
The move is one of several changes the current pope has brought about to make himself more personable and approachable.
While the Official Vatican Network maintains accounts on Facebook, Twitter and Instagram, Pope Francis has only a personal Twitter account.
Systrom co-founded Instagram, which launched in October 2010. By December of that year, the app had one million users. Instagram announced in September 2015 that it had 400 million members.