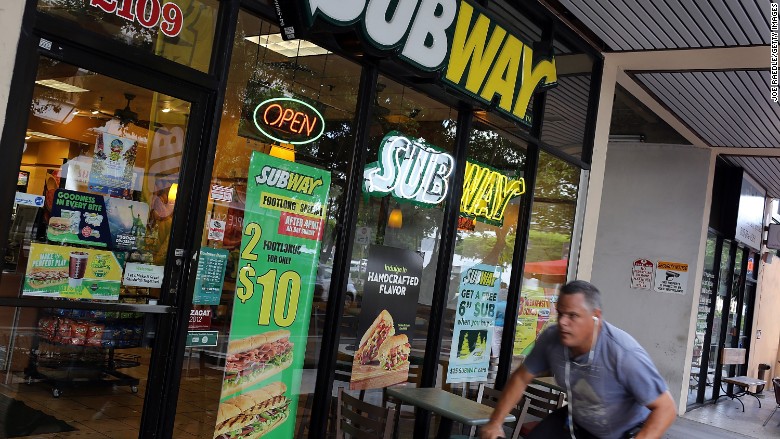 Subway is adding antibiotic-free chicken to its menu, claiming victory over rivals that have been slower to make the switch at all their locations.
Subway said it's the largest chain of its kind to deliver on a promise to offer chicken without antibiotics at locations nationwide. Its new Rotisserie-style chicken sandwich, made with antibiotic-free meat, will be available on March 1.
A year ago, McDonald's (MCD) said it would eliminate antibiotics, but is still working with suppliers to make the change.
Chick-fil-A made a similar announcement in 2014. So far, its accomplished 23% of its goal to eliminate antibiotics and is on track for a full conversion by 2019.
Many fast food and so-called fast casual companies want to convince customers of their commitment to "cleaner" ingredients. Subway also said it was on "track to remove all artificial colors, flavors and preservatives from North American menu items."
Related: Subway pledges to nix antibiotics in all its meat by 2025
Subway has also committed to nixing antibiotics in turkey, with the first products expected later this year. The ultimate goal: removing all antibiotics from meat by 2025.
Public health officials have been warning about the dangers of antibiotics in food supplies for years. The food industry's overuse of the drugs is fomenting the rise of the superbug -- bacteria that are resistant to antibiotics. That's because every time we use antibiotics, some bacteria survive, and those drug-resistant bacteria can then multiply and spread.
Last year, a group of advocacy organizations published a report that graded fast food chains based on their antibiotics policies. Subway was one of the companies that received an "F," along with Wendy's, Burger King, Denny's, Domino's and Starbucks (SBUX).
At the time, the report said that Chipotle (CMG) and Panera were the only chains that said publicly that a majority of their meat and poultry is produced without the routine use of the drugs. Chick-fil-A scored a "B."
Subway says its achievement is unique because of the scale of its operation. It has about 27,000 stores in the U.S., while Chipotle and Panera have a fraction off that.