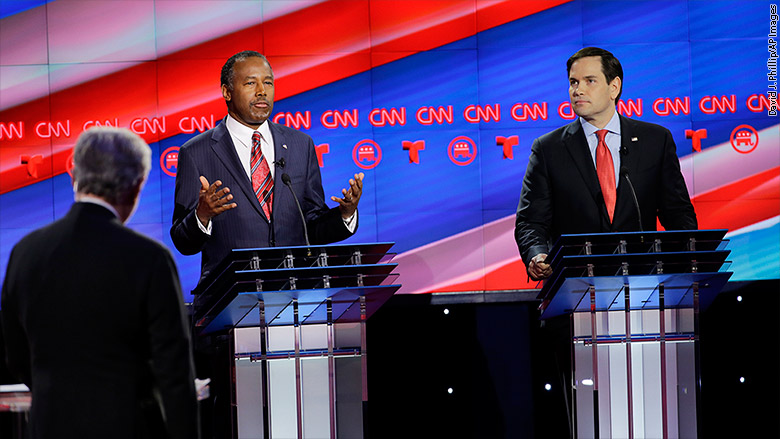 Ben Carson
I think allowing a terrorist to get away with things is bad for America.
You know, we have a Constitution. We have a Fourth Amendment. We have mechanisms in place with the judicial system that will allow us to gain material that is necessary to benefit the nation as a whole or the community as a whole.
So absolutely, I would expect Apple to comply with the court order. If they don't comply with that, you're encouraging chaos in our system."
Ted Cruz
Yes, Apple should be forced to comply with this court order. Why? Because under the Fourth Amendment, a search and seizure is reasonable if it has judicial authorization and probable cause. In this instance, the order is not to put a back door in everyone's cell phone.
If that was the order, that order would be problematic because it would compromise security and safety for everyone. I would agree with Apple on that broad policy question.
But on the question of unlocking this cell phone of a terrorist, we should enforce the court order and find out everyone that terrorist at San Bernardino talked to on the phone, texted with, e-mailed. And absolutely, Apple doesn't have a right to defy a valid court order in a terrorism investigation.
John Kasich
"I want to just tell you that the problem is not right now between the administration and Apple. You know what the problem is? Where's the president been? You sit down in a back room and you sit down with the parties and you get this worked out. You don't litigate this on the front page of the New York Times, where everybody in the world is reading about their dirty laundry out here.
The president of the United States should have convened a meeting with Apple and our security forces. And then you know what you do when you're the president? You lock the door and you say you're not coming out until you reach an agreement that both gives the security people what they need and protects the rights of Americans.
Marco Rubio
The only thing [Apple's] being asked to do, and the FBI made this very clear about 48 hours ago, is allow us to disable the self-destruct mode that's in the Apple phone so that we can try to guess using our own systems what the password of this killer was. And I think they should comply with that. If that's all they're asking for, they are not asking for Apple to create a back door to encryption.
But Apple doesn't want to do it because they think it hurts their brand. Well, let me tell you, their brand is not superior to the national security of the United States of America.