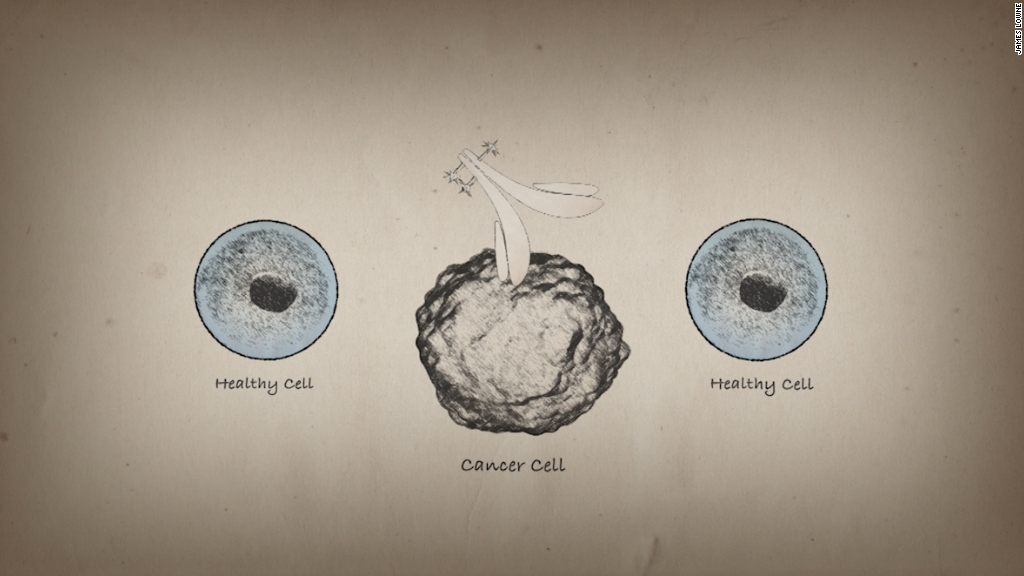 Chemotherapy takes a huge toll on a cancer patient's body.
Dr. Vijay Chudasama, a researcher at University College London, has been working to find an alternative procedure for almost five years. He believes that in five to 10 years, his research will eliminate the need for chemotherapy -- and its sometimes horrifying side effects.
"Genuinely, I think it is going to be absolutely huge," he said. "[With chemotherapy], you essentially take a cocktail of drugs not targeted to any great extent, and they kill your healthy tissue and kill your cancer tissue."
Chudasama is working on a treatment that exploits biological vehicles (i.e. antibodies) to discriminate between healthy and diseased tissue as a way to selectively deliver toxic compounds to cancer cells.
Related: She's recycling carbon dioxide to reduce oil dependence
His work would potentially also expand the range of drugs that could be used -- and the amount. There wouldn't be the same concerns about the level of toxicity, since they would only target cancer cells.
"[Using antibodies] gives us access to use drugs that are so potent at killing cancer cells," he said. "So we're now in a position where ... we can kill cancer cells with our best weapons."
Chudasama said the research he's working on now has been around for more than a century, originating with scientist Paul Ehrlich. But he said people have started to focus on it only within the last 10-15 years. His team of eight is one of several groups around the world working on similar solutions.
"It's a really booming area," he said.
Related: 'AI can solve world's biggest problems'
A 29-year-old from London, Chudasama studied chemistry at University College London and earned a PhD in organic chemistry from the same school. His focus is now chemical biology, although he never planned to specialize in that field. Early in his schooling work, he realized there wasn't an effective way to link drugs and antibodies, and was inspired to conduct research at the intersection of chemistry and biology.
Chudasama is excited about the scope of possibilities that further research developments will open up. He said of the drugs, "I think if they are remarkable in themselves now ... I think it's going to be a bright future in the treatment of cancer."