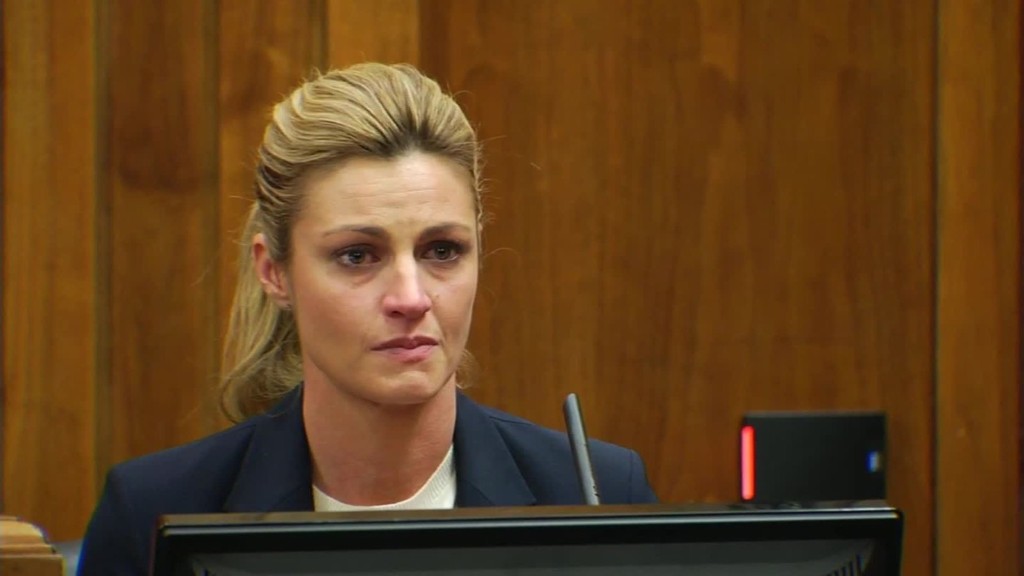 The sportscaster Erin Andrews tearfully told a court Monday that when she found out a stalker had posted nude video online, she called her father and frantically screamed, "Dad, I'm naked all over the Internet."
She was so distraught, she said that the hotel where she was staying called to ask if she was okay.
Those moments, Andrews said, were like "an out of body experience."
Andrews, a reporter for Fox Sports, took the stand as her $75 million civil trial over the secret nude videos reached its second week.
She is suing her stalker and a Nashville Marriott over recordings made through a peephole during her 2008 stay in the hotel.
During testimony in a Nashville court, Andrews tearfully recalled how much of the public accused her of pulling a publicity stunt when the nude recordings surfaced in the summer of 2009.
"Probably for three months, everybody thought it was a publicity stunt," Andrews said, choking up. "That ripped me apart."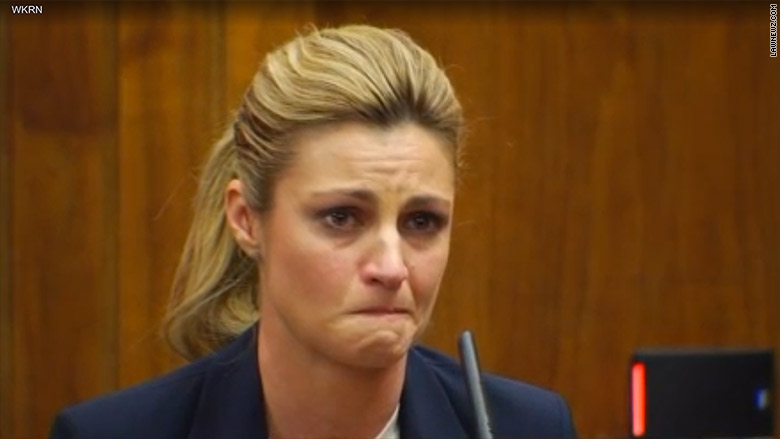 She recalled traveling with her father to meet with the FBI. The meeting was intended to determine which hotel the spying took place, but while watching it with the agents she had to leave the room to vomit. She said that getting sick over watching it convinced the FBI she hadn't staged it.
Andrews' case alleges that the Nashville Marriott was negligent for telling a man named Michael David Barrett which room where she was staying in. Barrett was sentenced to two-and-a-half years in prison in 2010 after admitting to checking into hotel rooms next to Andrews on multiple occasions and making nude recordings of her through a peep hole.
On Monday, Andrews was emotional when her attorney asked if the Nashville hotel ever informed her of Barrett's inquiries.
"Nobody ever called me," she said. "Nobody ever told me when I checked in that he asked to be put next to me."
Andrews added later in her testimony: "I am so angry. This could have been stopped."
She described how her life has changed since Barrett leaked the footage, saying she suffers from depression and bouts of sleeplessness. While working as a sideline reporter, Andrews said she is frequently taunted by male fans in the crowd.
"It's always there. It's always on my back," she told the court.
At another point, through tears, Andrews said, "I wanted to be the girl next door who loved sports, and now I'm the girl with a hotel scandal... It's on the internet now... It's going to be on the Interent until I die."
Andrews was preceded on the stand by her mother, Paula, who said her daughter has endured "a loss of security, safety and a violation of her most personal aspect of life."
"It's like a thing she can't control," Paula Andrews said. "She's been humiliated."