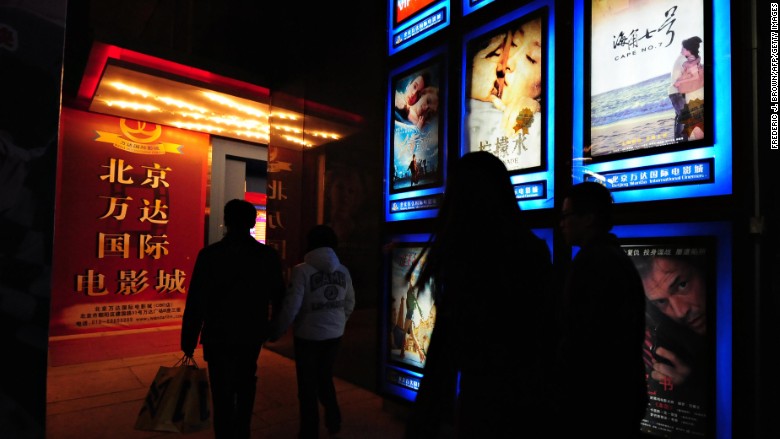 A goofy comedy about mermaids and a fantasy starring a "monkey king" have propelled China's box office to a massive $1 billion monthly haul that eclipsed sales in North America for the first time.
Chinese theaters took in a record 6.87 billion yuan ($1.05 billion) in February, the official state news agency Xinhua reported. That compares with $797 million in North America, where 20th Century Fox's "Deadpool" delivered a strong performance, according to ComScore data.
While box office performances are typically measured one weekend at a time, the impressive monthly take reflects growing interest in cinema among China's middle class, a development long anticipated by film studios and Hollywood insiders.
Directed by Hong Kong's Stephen Chow, "The Mermaid," was the top performer in China with 3.17 billion yuan ($483 million) in receipts. The film tells the story of a mermaid who falls in love with a businessman she is sent to assassinate.
Related: China box office hits new record for a single day
Runner-up "The Monkey King 2" pulled in 1.16 billion yuan ($177 million) during February.
Sales were likely helped by the Lunar New Year holiday, a festive time when many Chinese people return to their family homes for a week-long public vacation.
China's box office sales continue to hit record highs, and the market is growing at a fast pace. But the North American market -- the U.S. and Canada -- remains much bigger on an annual basis.
Chinese box office sales surged 49% last year to reach 44.1 billion yuan ($6.7 billion), while the North American market grew around 7% to $11.1 billion over the same period, according to comScore, a firm that monitors movie viewing.
Related: China's hottest film ever is about mermaids
Last year was an exceptional year for North America, boosted by big hitters like "The Force Awakens" and "Jurassic Park." The region's box office sales had actually declined in three of the five previous years.
China has tight restrictions on the number of foreign films that can be released in its market, but its movie producers are increasingly looking abroad for new opportunities. Hollywood has typically reciprocated.
The conglomerate run by the China's richest man, Wang Jianlin, announced a $3.5 billion deal in January to buy the Hollywood studio that produced "Pacific Rim" and a slew of other recent blockbusters. Wang's company, Dalian Wanda, already owns the U.S. cinema chain AMC.