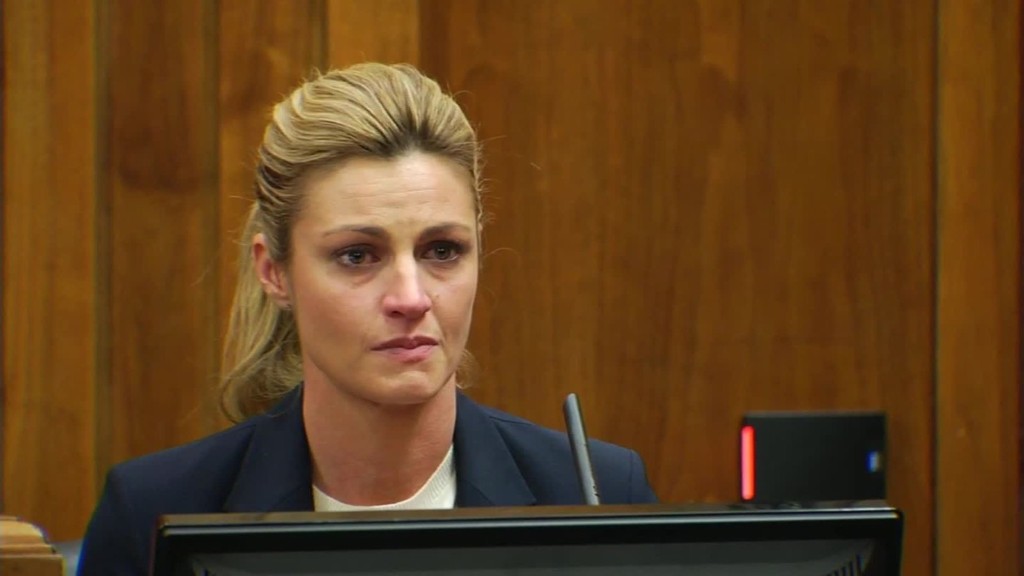 An emotional Erin Andrews finished two days of testimony Tuesday by describing to the court how a stalker's online nude video of her has wreaked havoc on her life for the past seven years.
The Fox Sports reporter is bringing a $75 million civil suit against her stalker Michael David Barrett and the owner and management company of the Nashville Marriott where the video was secretly recorded.
During a brief cross examination, an attorney for the Marriott cited a litany of new contracts, endorsement deals and television appearances that Andrews received after the 2009 incident in an attempt to show her income had increased.
In addition to the Nashville video, Andrews was stalked in two other locations by Barrett -- Milwaukee, Wisconsin and Columbus, Ohio.
But Andrews said it was the four-minute video made at the Marriott that people were seeing online and was the most damaging to her.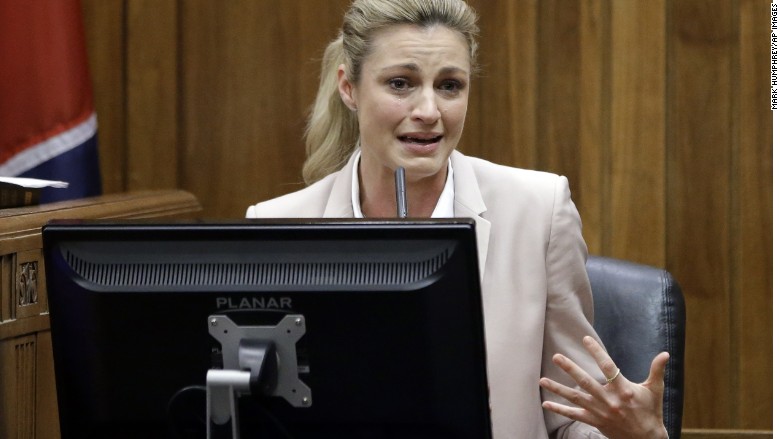 "You don't really realize how long four minutes is until it's your naked body, you getting dressed for a football game. I look at the Marriott as more damaging because it's 4.5 minutes of my personal private time, absolutely naked, that everybody sees," she said.
Andrews' attorney alleged that the Marriott was negligent because an employee told Barrett which room Andrews was staying in.
"[T]his hotel did everything but give Mr. Barrett a key to her room," Andrews' attorney said before resting the plaintiff's case.
Related: Why sportscaster Erin Andrews is suing a hotel for $75 million
Andrews, who worked for ESPN at the time of the video, told a Nashville court that doing interviews with athletes became difficult after the naked video was posted online. It was shot through a peephole and went wildly viral.
"I felt like when I walked into a room...I felt like everybody was watching me like they'd seen the video," she said.
The sportscaster, who is now on Fox Sports, said she also felt "embarrassed, humiliated, mortified" because of the video.
Andrews appeared to break out in a rash on her neck while testifying, something she said has occurred ever since the video was posted whenever she's stressed.
She said she tried to immerse herself in work, hoping that if she covered three football games a week and competed on "Dancing With the Stars" people would forget about the video, and she could too.
But she testified that eventually she was unable to bury herself in work and sought help because she still felt "screwed up."
Sign up for the Reliable Sources newsletter
Andrews told the court that it will be difficult to discuss the video with her future children and talked about her current relationship with boyfriend Jarret Stoll.
"I feel sad because I think he would have loved the girl more who was there before this happened," Andrews said through tears. "And I feel guilty about that."
She also detailed how the video has changed her travel patterns.
As soon as she gets to a hotel -- regardless of the city -- she changes her room from the one she was originally booked in. She also tells the front desk a man is traveling with her even when there isn't one.
Andrews doesn't allow anyone to bring her bags to her room, uses a "do not disturb" sign and doesn't allow room service to deliver food.
Before settling in, she said she thoroughly checks the bed, the clock, the air conditioning grate and especially the bathroom for hidden cameras and looks for the telltale red lights of possible hidden recorders.
She covers the peephole and won't stay in a room with an adjoining room.
In addition, Andrews said she "booby traps" the room, setting a piece of paper or some other object by the door so she can see if someone walks by while she's gone.