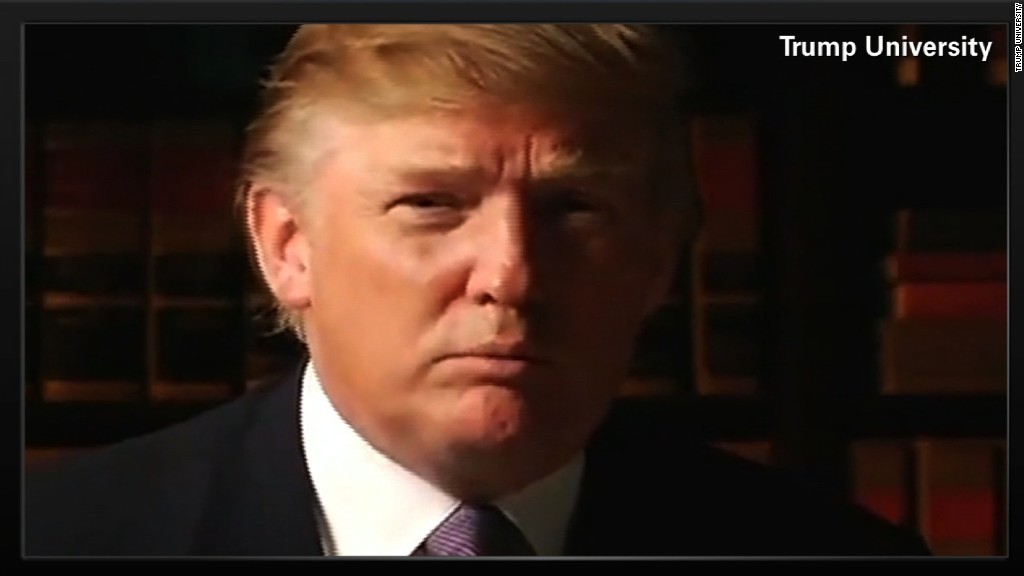 Troubles surrounding the defunct Trump University won't go away for the GOP frontrunner any time soon.
On Tuesday a New York court declined to throw out a fraud case brought by the state's attorney general.
On Tuesday a New York court rejected the arguments of Donald Trump's lawyers that a fraud case brought by the state's attorney general should be tossed out.
New York Attorney General Eric Schneiderman alleges that Trump University defrauded students who signed up for the course expecting to learn Trump's secrets to making money in real estate. Tuition for the course topped out at $36,000.
Trump's lawyers had argued Schneiderman's office took too long to bring the case and that it should be dismissed under the statue of limitations.
But the New York appellate division unanimously rejected that argument, clearing the way for the case to go to trial.
"We look forward to demonstrating in a court of law that Donald Trump and his sham for-profit college defrauded more than 5,000 consumers out of millions of dollars," said Schneiderman.
Related: Trump to be witness in federal case accusing him of fraud
The case is one of three that Trump faces charging the school with fraud. Two federal class action cases in California brought by former students make similar allegations. Trump is scheduled to be a witness in one of those cases, which could go to trial late this spring or this summer.
Trump intends to appeal the decision, said Alan Garten, general counsel for the Trump Organization. "We respectfully disagree with the decision," he said.
Related: Trump voters 'don't care about facts' says former Apple CEO
The university has become an issue on the campaign trail. During a debate on CNN on Feb. 25, Sen. Marco Rubio charged that Trump University was a "fake school."
"There are people who borrowed $36,000 to go to Trump University," he said. "And you know what they got? They got to take a picture with a cardboard cutout of Donald Trump."
Trump responded to Rubio's attack by saying he has won most of the court cases brought against him, and that "they actually did a very good job."
Sen. Ted Cruz warned Republican voters about the suit during the same debate.
"I want you to think about, if this man is the nominee, having the Republican nominee on the stand in court, being cross-examined about whether he committed fraud," Cruz said during the debate. "You don't think the mainstream media will go crazy on that?"
Cruz mentioned Tuesday's court decision during a campaign speech as he campaigned in the final hours of Super Tuesday voting.
Rubio issued a statement saying that the case brings up bigger problems than just Trump University.
"What he did to those people is what he is doing to Americans now," Rubio said.