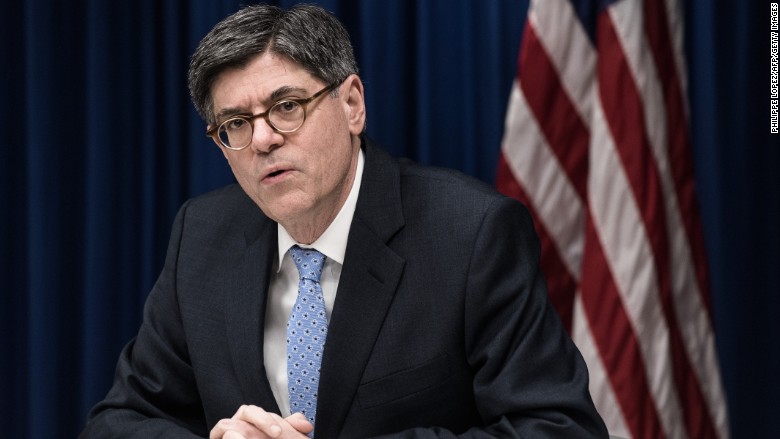 U.S. Treasury Secretary Jack Lew said Tuesday that he doesn't expect an all-out global currency war anytime soon.
Such risks are now "greatly, greatly reduced" after discussions held at a summit of G20 central bank and finance ministers over the weekend in Shanghai, Lew told a news briefing in Hong Kong.
"It adds a new commitment, which means there won't be any surprises," he said. "You won't see countries acting in a way that triggers the kind of competitive devaluation that leads to a currency war -- that's very important."
Concerns of potential currency chaos have been building ever since China jolted global markets last August with a surprise two-day devaluation of the yuan. A cheaper currency gives China a leg up in global trade, making its exports more attractive to foreign buyers.
Related: China's options to try to dodge a currency crisis
The worry was that China's move would put pressure on other countries to also lower the value of their own currencies in order to stay competitive in world trade. And such tit-for-tat moves could lead to greater market turmoil -- something that would further weigh on the global economic recovery.
The yuan has continued to depreciate, losing 0.8% in value against the U.S. dollar so far this year. The weakening currency and China's slowing economy have prompted investors to yank billions of dollars out of the country in search of better returns elsewhere.
But Lew reiterated Tuesday that the G20 meeting, along with talks he had with top Chinese government officials in recent days, have produced "the clearest statement that I've heard, that China has no intention, and no need, for a devaluation."
Related: China wants to launch its own digital currency
That's in line with what Chinese government officials have also said in recent months -- that the August devaluation was a one-time move meant to align the yuan's exchange rate closer to what market forces were demanding.
But many analysts are unconvinced, warning that continuing capital outflows could eventually force China to allow its currency, which is also known as the renminbi, to drop sharply lower.
Chinese policymakers' words and actions will remain in the spotlight. The International Monetary Fund voted to include the yuan in a special basket used to value reserve currencies, which will take effect later this year.
Lew urged China and other governments to clearly communicate the reasoning behind policy changes to avoid market turmoil, especially "at a time when the actions that governments are taking are being judged in real time."