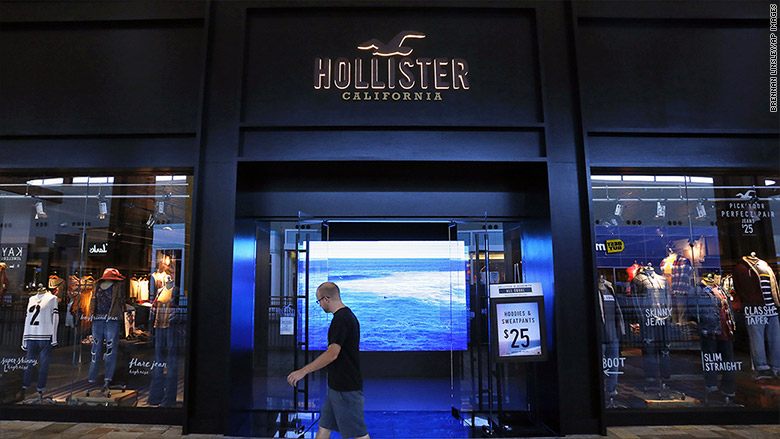 Should Abercrombie & Fitch change its corporate name to Hollister?
The controversial apparel retailer, which is in the midst of a turnaround, reported its latest earnings on Wednesday. And, to paraphrase Charles Dickens, it was a tale of two clothing chains.
It was the best of times for Hollister. Same-store sales were up 4% in the fourth quarter. That's the second consecutive quarter of growth.
But it remains the worst of times for the core Abercrombie brand. Same-store sales fell 2%, continuing a trend of sales declines. If you want to put a positive spin on it though, sales didn't fall as much as they did in previous quarters. Still, down is down.
Wall Street couldn't seem to figure out what to make of the overall results. The stock (ANF) initially surged as much as 8% shortly after the market opened and hit a new 52-week high in the process. But shares pulled back sharply later in the morning.
Related: No more sex at Abercrombie & Fitch
Abercrombie & Fitch's new management team, led by former Sears (SHLD) CEO Arthur Martinez (who left before Eddie Lampert turned Sears into the laughing stock of retail), has done a solid job so far of righting the ship.
Former Abercrombie CEO Mike Jeffries stepped down in 2014. Under his watch, the retailer was known for having scantily clad (and young) models in ads, its catalogs and the stores.
Loud music and the overbearing odor of cologne were the norm in the company's stores.
Jeffries was also criticized for cultivating a "cool kid" image. In an infamous 2006 interview, he proudly admitted that the retailer was "exclusionary."
Want more investing news? Subscribe to CNNMoney's Quest Means Business newsletter!
Since Jeffries' departure, Abercrombie has announced that it would stop "sexualized marketing." It also said it would change the dress code for its employees and tone down the music and cologne in order to create a "more pleasurable shopping experience."
This seems to be working for Hollister so far, but less so for Abercrombie.
Hollister is now bigger than Abercrombie. Hollister reported total sales of $1.88 billion last year compared to $1.64 billion for Abercrombie.
During a conference call with analysts Wednesday, Abercrombie & Fitch president and chief merchandising officer Fran Horowitz said Hollister has been busy remodeling stores and has a new management training program to improve customer service.
She also said that shirts, dresses and accessories were hits with women and girls while denim jeans were big sellers for men.
Horowitz was promoted from president of Hollister in December to her new role overseeing both brands.
And she added that Hollister has done a better job with digital commerce and social media lately. Hollister has new mobile apps and has been focusing more on interacting with shoppers on Snapchat and Instagram.
Related: America's most hated retailer is ...
But the Abercrombie brand name still may be rubbing consumers the wrong way.
The American Customer Satisfaction Index recently rated Abercrombie & Fitch as the most disliked retailer in its latest survey. It was Abercrombie's first time on the list. Not an auspicious debut, huh?
It also appears that Abercrombie & Fitch overall is doing a better job of winning back customers overseas than in the United States. Same-store sales for the whole company rose 6% internationally in the fourth quarter and were down 1% in America.
That may explain why Wall Street is still a little skeptical about the company's turnaround.
Susan Anderson, an analyst with FBR & Co., wrote in a report that Abercrombie "continues to have trouble driving traffic into its stores."
And Cowen and Company analyst Oliver Chen noted in a report that the stock could be volatile because many short sellers are still betting against it. That's a potential sign that many investors don't believe the turnaround can last.
Abercrombie & Fitch will definitely need to get its core brand back on track to prove to Wall Street that its comeback is legit.
Until then, the company might want to roll with the hot hand and emphasize what's working for it.
Just as Dayton Hudson eventually became Target (TGT) and Woolworth morphed into Foot Locker (FL), Abercrombie might be better off if it changed its name to Hollister.