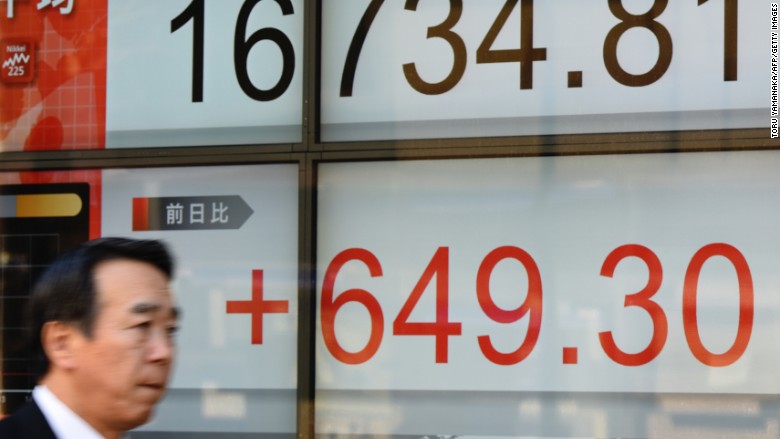 Asian stocks surged Wednesday, building on rallies in Europe and the U.S.
In China, the Shanghai Composite jumped 4.3%, while Japan's Nikkei soared 4.1%.
The strong advances came after a standout day for Wall Street on Tuesday, with the tech-heavy Nasdaq clocking up its biggest percentage rise of the year so far.
Recent economic data have suggested the U.S. economy is still in healthy shape, easing some investor worries.
Adding to the more optimistic view, Australia posted stronger than expected economic growth for the last quarter of 2015 on Wednesday. Australia's ASX All Ordinaries climbed 1.9%.
Related: Dow soars nearly 350 in 'Super Tuesday' for stocks
But the recent gains haven't been enough to compensate for the ugly start to 2016 that many Asian indexes have endured.
The Shanghai Composite, which suffered a huge crash last summer, is down nearly 20% since the beginning of January. Some experts say they still think many Chinese companies' shares look overpriced despite the big declines, while the country's economy continues to slow down.
The Chinese central bank cut the amount of cash that commercial banks have to keep in reserve this week in an effort to prompt them to lend more to businesses and consumers.
The Nikkei is still off 12% so far this year. The Japanese economy is sputtering as policymakers resort to increasingly extreme measures -- like negative interest rates -- to try to kickstart it into life.
Japan's currency, the yen, which is considered a safe haven asset, has strengthened against the dollar amid the market turmoil in the first two months of the year. The stronger yen hurts Japanese exporters by making their goods more expensive overseas.