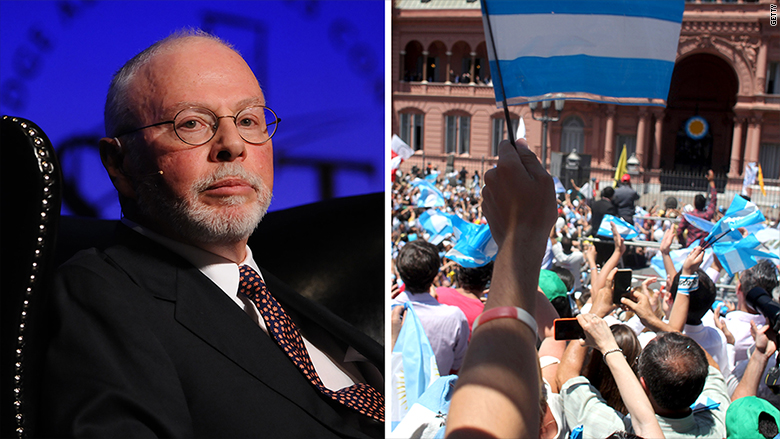 American hedge funds are cashing in on Argentina.
Argentina and four hedge funds ended a 15-year debt battle on Sunday night. Argentina -- South America's second largest economy -- agreed to pay $4.65 billion altogether.
As the dust settles, details are emerging about how much cash each hedge fund is going to take to the bank.
One fund, Bracebridge Capital from Boston, will make about $950 million return on its original principal amount of $120 million. That's about an 800% return.
Billionaire Paul Singer and his firm NML Capital -- the leading firm in the case -- will rake in $2.28 billion on principal and interest payments. That's a huge payday considering NML's original amount of only $617 million. That's a 370% return, according to the terms of the agreement and a court document filed by Argentina's undersecretary of finance, Santiago Bausili.
Argentina offered to pay about 75% of the total claims from the hedge funds. Bloomberg first reported on the individual returns Tuesday evening.
Related: Argentina ends 15-year debt battle
Resolving the dispute is a big win for Argentina too -- it can finally return to foreign capital markets after effectively being shut out since it defaulted on $95 billion of debt in 2001. That will greatly help its economy grow.
However, it's the tough negotiations and these types of sky high returns that result from them that make Latin Americans vilify the hedge funds. Singer and the others are called "vultures" in Argentina.
Their strategy is pretty simple: wait for a developing country to default on its debt, swoop in and buy the country's debt at a very cheap price and then sue the country for full repayment.
"While Argentina can now return to the markets, the settlement validates a predatory and exploitative business model," says Eric LeCompte, executive director of Jubilee USA, a firm that lobbies for financial reforms for developing countries.
Singer and Argentina battled for 15 years. By 2010, Argentina had settled its debt problems with 92% of its creditors. But Singer and other funds -- representing the bulk of the other 8% -- held out. And a New York judge, Thomas Griesa, agreed with them. He ordered that Argentina couldn't pay any creditors until it paid Singer and other holdouts.
Related: Latin America: China's power play right under the U.S.
The battle finally ended late Sunday night with the agreement. It's not entirely a done deal: Argentina's Congress still needs to approve the payment and lift laws that prevent the country from paying holdouts. However, Congress is expected to do both.
NML Capital didn't respond to a request for comment. Other firms declined to comment for this story.
Argentina's Congress has until April 14 to approve the deal.