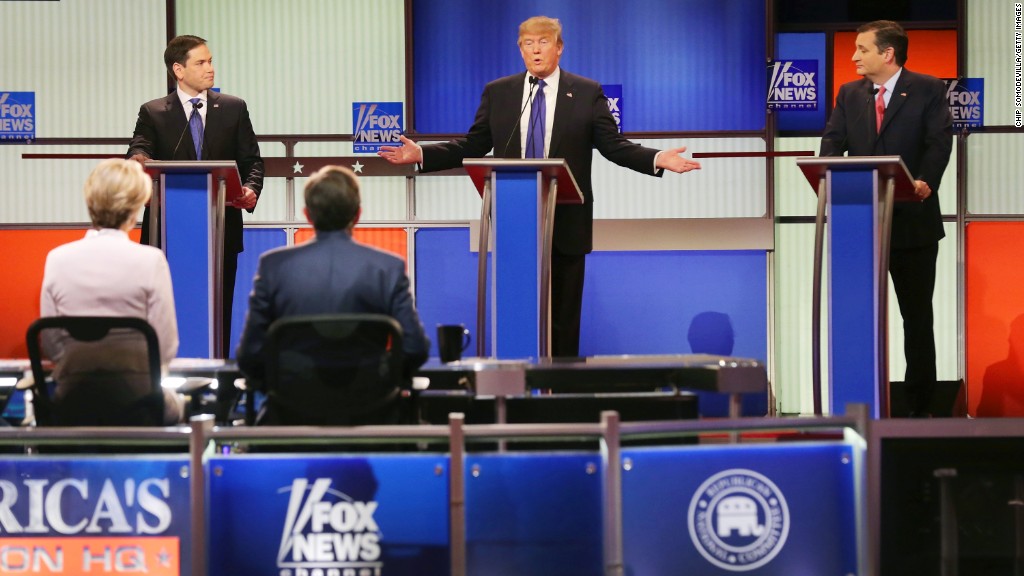 Donald Trump met his match on Thursday night, and it wasn't Marco Rubio or Ted Cruz. It was Megyn Kelly.
Throughout the Republican debate, the Fox News moderator offered a more aggressive interrogation into Trump's business failures and shifting positions than any of his GOP rivals.
Trump and Kelly's highly anticipated rematch -- their first since they faced off at the first debate last August -- started off friendly enough.
"Mr. Trump. Hi. How you doing?" Kelly began.
"Nice to be with you Megyn. You're looking well," Trump replied.
"You're looking good, too." Kelly said.
Related: Donald Trump and Megyn Kelly rematch set for Super Thursday
Minutes later, Kelly was rolling a highlight reel of the times that Trump had said one thing about domestic or foreign policy only to change his opinion just days -- or sometimes one day -- later.
When Rubio accused Trump of scamming the American voters, and cited the controversial Trump University as an example, Kelly was quick to offer a well-prepared litigation recap of Trump U's history.
Kelly pointed out that Trump University had received a D-minus rating from the Better Business Bureau. When Trump argued that the grade was later elevated to an A, she pointed out that that wasn't true.
Related: Trump says he's 'ready' for Megyn Kelly at Fox debate
When Trump argued that 98% of Trump University attendants praised their experience, she pointed out that a third of people asked for refunds -- once again fact-checking Trump in real time.
Kelly earned widespread praise for her performance from viewers and fellow journalists: "Megyn Kelly is awesome," Politico's John Bresnahan tweeted. "Thank you, Megyn Kelly," conservative radio host Steve Deace wrote.
"The person tonight that I'd be most scared to run against is Megyn Kelly," Jack Moore, a television writer and GQ contributor, tweeted.
"Megyn Kelly shows that you need to explain what Trump U is before you start attacking Trump about it," wrote The Weekly Standard's John McCormack.
Kelly's effect on Trump did not go unnoticed, either.
"So it turns out that if you attack Trump, he kind of melts down," BuzzFeed Editor-in-Chief Ben Smith tweeted. "Imagine if GOPers had done it in the fall."