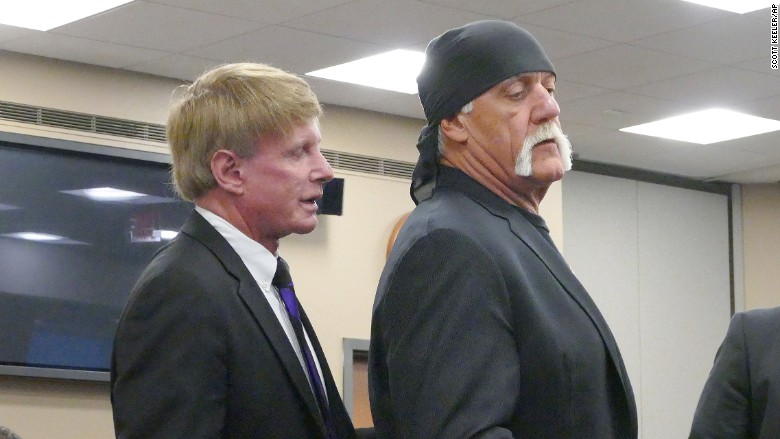 Hulk Hogan's $100 million civil trial against Gawker Media will invariably veer into risque territory. And for some potential jurors, that might be asking too much.
Roughly seven hours of questioning failed to produce a jury on Thursday, the third day of the proceedings at the Pinellas County Judicial Building in St. Petersburg, Florida. Jury selection will resume Friday, with the trial still scheduled to begin Monday.
Hogan's attorney Kenneth Turkel asked a series of questions related to the case, to which the 91 jurors in the courtroom would respond by a show of hands.
Some of Turkel's questions were explicitly about the central facts of the case, namely Hogan's sex tape.
Hogan, whose real name is Terry Bollea, is suing Gawker for publishing a portion of one of his sex tapes in 2012, alleging defamation and invasion of privacy. The tape showed Hogan having sex with Heather Clem, then the wife of radio host Bubba "the Love Sponge" Clem.
Bubba Clem, once a close friend of Hogan's, gave the former professional wrestler permission to have sex with his wife in 2006.
Related: Hulk's jury pool questioned about his use of racial epithet
When Turkel asked the jurors if these facts -- and the sex tape itself -- would hinder their ability to be fair and impartial, several individuals raised their hands.
"It goes against my personal beliefs, and my relationship with Jesus Christ," a female juror told Turkel.
One man said that he could make an effort to be a fair juror, but indicated that the case made him squeamish.
"I think the whole subject matter of the case gives me serious problems," he said.
Related: Hulk Hogan taunts Gawker on Twitter at start of trial
Another woman who raised her hand waded through the moral dilemma of watching the graphic footage. The sex tape will be shown to the jury, but not to the media or anyone else attending the trial.
The woman said her religious beliefs and her marriage of 35 years gave her misgivings about watching it, but her civic duty takes precedence.
"Do I want to look at it? No," she said. "Am I willing to, as a citizen? Yes."
The jurors may not have many preconceived moral hangups about Gawker, however. Only a handful of the jurors were familiar with the New York City-based news and gossip site.
Turkel, a gregarious figure and native of nearby Tampa, was a hit among the jurors, joking and bantering with them. When he finished shortly before 4 p.m., some of the jurors applauded as if a standup comic had finished a set.
Related: Coming to Gawker: Layoffs and politics
Gawker attorney Michael Sullivan agreed to only an hour of questioning before picking up on Friday. But the limited time frame provided a window into the defense's case.
In a statement released on Thursday morning, Gawker said it is "defending the First Amendment against Hulk Hogan's effort to create a world where celebrities can promote themselves around any topic, in this case sex, and then veto how the media covers their lives."
Sullivan alluded to the First Amendment defense, asking jurors if they would prefer to live in a society that bars individuals from accessing certain types of news coverage. He also highlighted the breadth of Gawker Media by asking jurors about their familiarity with the company's other sites, such as Deadspin and Jezebel.
Some of the jurors said they had read those sites.
The day concluded with Judge Pamela Campbell excusing 36 jurors from the pool.