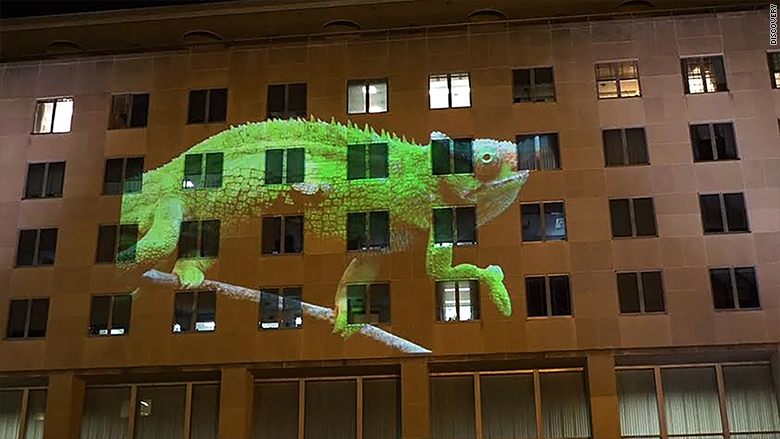 The U.S. Wildlife Trafficking Alliance has teamed up with 16 organizations and companies, including Google, eBay and JetBlue, to tackle illegal trafficking of wildlife.
Each of the companies will go after trafficking in different ways, depending on their particular areas of expertise and zones of influence in the business world.
Other companies in the new alliance include Tiffany (TIF) & Co., Ralph Lauren (RL), Discovery Communications (DISCA) and Etsy (ETSY), the alliance says. It also includes organizations like the Bronx Zoo, the Association of Zoos and Aquariums and The Adventure Travel Trade Association.
Sophia Mendelsohn, head of sustainability for JetBlue (JBLU), said the airline will educate passengers traveling to trafficking hot spots like Latin America that it is illegal to dine on certain animals or take others home as pets.
"It's about stopping the problem before it gets to the point of being on an airplane," she said. "Once it's in a box or a bag on an airplane, it's already too late."
Discovery said it will educate its viewers and reach out to schools about trafficking of endangered wildlife. The company is also creating virtual reality content to be shown at zoos and aquariums about wildlife trafficking.
Related: You can hunt lions in Africa for $49,000
David J. Hayes, chair of the U.S. Wildlife Trafficking Alliance and former deputy secretary of the Interior, said that "some companies have platforms that traffickers use, or try to use, to sell their products."
He said that eBay (EBAY)and Google (GOOG) are "raising their efforts to develop algorithms and other methods to stop the selling of illegal products."
Google Shopping already has a policy against the advertising of products from "threatened or extinct species" like tigers, shark fins, elephant ivory, tiger skins, rhino horn and dolphin oil.
Etsy already has a policy prohibiting the sale of live animals as well as parts made from endangered animals and cats and dogs. An Etsy spokeswoman said that joining the alliance will help the company "share knowledge and continue to combat bad actors in our marketplace."
Tiffany will partner with other jewelers to educate them about the harm of selling jewelry made from wildlife, like ivory from elephants, according to Hayes.
Poaching and the international black market in wildlife parts is a multi-billion dollar industry that's been linked to the funding of terrorism, according to Representative Ted Poe, chairman of the House Subcommittee on Terrorism, Non-Proliferation and Trade.
The illegal wildlife trade "runs the gamut from illegal logging of protected forests to supply the demand for exotic woods, to the illegal fishing of endangered marine life for food, and the poaching of elephants to supply the demand for ivory," according to the U.S. Fish & Wildlife Service International Affairs.
Ivory harvested from illegally killed elephants and rhinoceroses is most one of the notorious aspects of the industry. Despite the efforts of some African nations to stop the poaching, it's caused a massive reduction in animal populations.