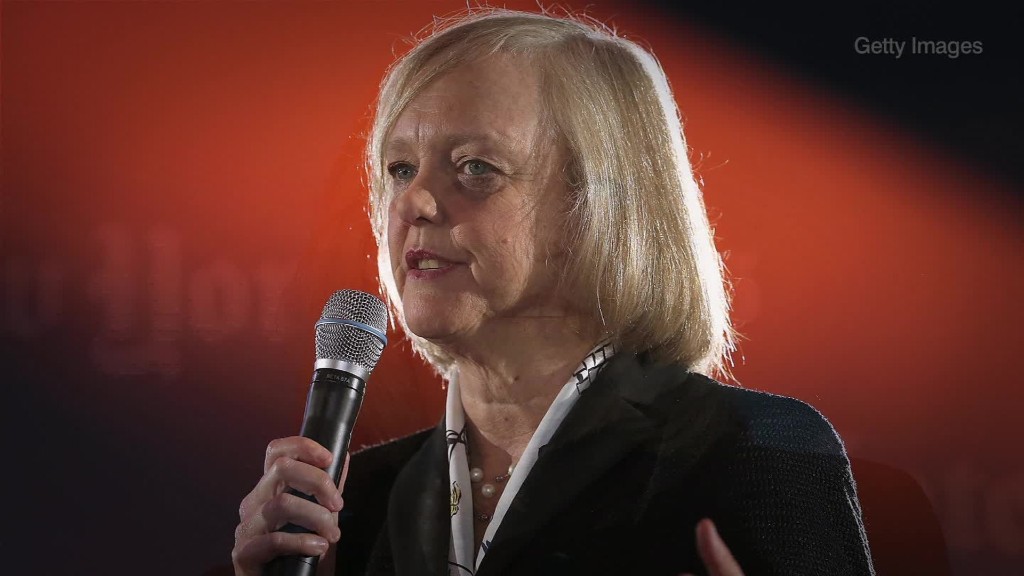 We must stop Donald Trump, says one of America's top businesswomen.
Meg Whitman, the CEO of HP Enterprises (HPE), calls Trump a "dishonest demagogue" who would "sink this country into a recession."
"I won't be voting for Donald Trump," Whitman said Friday on CNBC. "Look at the comments he's made about women, about Muslims, about reporters, it's just repugnant."
Whitman is one of the most high profile CEOs and Republicans to speak out against Trump. She says she had to.
"My belief is if the American people could really understand his record, understand who he is, understand his business track record, which is not strong, we would not nominate Donald Trump," Whitman said Friday.
Related: Donald Trump could cause a recession
Last weekend, Whitman released a statement calling Trump unfit to be president and slamming Gov. Chris Christie for endorsing him.
On Friday -- a day after Trump talked about his private parts in the Fox News GOP debate -- Whitman piled on the criticism.
"Is this the kind of temperament we want in a leader?" Whitman said. She went on to call Trump's economic plans "incredibly dangerous."
Whitman led eBay (EBAY) for a decade before running for governor of California in 2010. She lost that election but has stayed involved in politics. This election she served as campaign finance co-chair for Gov. Christie.
Her remarks come a day after Mitt Romney said Trump would cause a recession.
Related: Why Hillary Clinton could beat Donald Trump
Business executives and economists say Trump's plans to put a tariff (basically a fee) on imports from China and Mexico would start a trade war that could send the U.S. economy into a tailspin. They also point out that his tax plan would run up the debt even more.
"His plan to put on a 35% tariff on goods imported would sink this company into a recession. It would penalize global companies that are trying to be competitive globally," said Whitman. HP Enterprises is in the midst of trying to close a deal in China.
Since the start of the year, Whitman has traveled to Europe twice. The first questions she gets asked by business leaders there is what is going on in the United States? Would America really elect Trump?
Related: NY Attorney General: Trump University fraud 'pretty straightforward'
When pressed on whether she would support Hillary Clinton over Trump, Whitman reiterated that she would not support Trump. She is reportedly part of a group of executives and investors raising money to help the remaining GOP contenders: Ted Cruz, Marco Rubio and John Kasich.
Trump dismisses the criticism from Republican business leaders.
"I'll just address it quickly because it's irrelevant. Mitt is a failed candidate. He failed horribly," Trump said at a rally in Portland, Maine on Thursday.