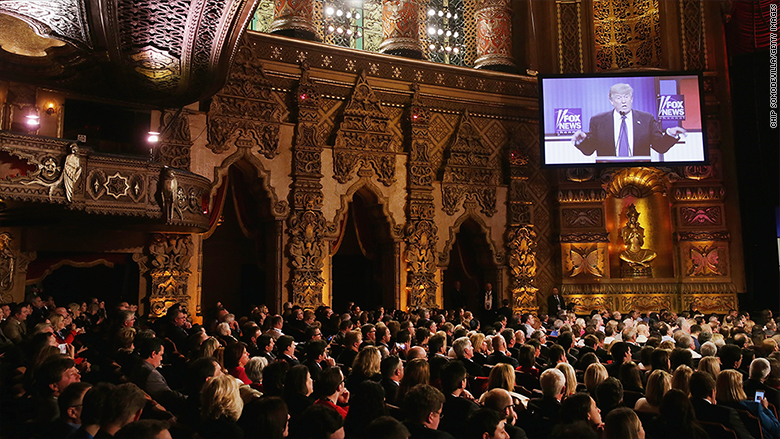 Young women were dabbing behind the moderators. Protesters were hollering at Donald Trump from the cheap seats. Three people were removed from the theater by police.
The crowd for Thursday night's GOP debate was so rowdy — so loud and sometimes even disruptive — that it has people asking whether debates should have audiences at all.
For better and sometimes for worse, "audiences contribute to political theater," former "Meet the Press" moderator David Gregory said.
There are many good reasons to have a full house during debates. The candidates are able to invite big donors, friends and family members; they're obviously buoyed by friendly faces in the crowd. The networks and the political parties are also able to give away tickets.
And the crowds serve as stand-ins for the viewers at home. Thursday's noisiness was, on one level, merely a reflection of the frenzied feelings of the national electorate.
Related: Fox's GOP debate is highest of 2016
But it almost sounded like the Fox Theater had become the Roman Coliseum during Thursday's face-off between Trump, Ted Cruz, Marco Rubio, and John Kasich. There was hooting and hollering throughout. Some people could be heard shouting out Trump's name.
Forty-five minutes into the debate, veteran political columnist Roger Simon quipped on Twitter, "The audience now seems to be randomly shouting. The drugs are either kicking in or running out."
"It was absurd," Gregory told CNNMoney on Friday. "I thought the audience interfered with good questioning and made me think, honestly, why do we need an audience at all?"
Cheers and boos were common at earlier debates, including at CNN's GOP debate in Houston last week. The audiences have been known to provide a laugh track at times.
Related: The joke about Donald Trump's hands goes back nearly 30 years
But radio host Hugh Hewitt, who asked questions at that debate and two other CNN-sponsored debates, tweeted on Thursday night that the audience in Detroit was "by far" the rowdiest yet. "Not helpful, but it isn't going to get quieter," he said.
The Fox moderators asked the audience to remain respectful. And most attendees were. But there was enough rambunctiousness that even a Fox host, Greg Gutfeld, tweeted during the debate, "Control the damn audience."
GOP debate hall attendance is handled by the Republican National Committee. RNC spokesman Sean Spicer confirmed that security officials intervened during intermissions and that three audience members were escorted out of the Fox Theater for various reasons.
Related: Court refuses to toss Trump University fraud case
Spicer said vocal supporters are to be expected: "That's the nature of a live audience."
Campaigns get the "lion's share" of the tickets for debates, he said, while other tickets go to elected officials, the state party, the national party, and the network.
Gregory said that one value of the studio audience is that "they help create a sense of event."
Rows of VIPs, family members and elected officials even "offer a kind of instant focus group," he said.
But on Thursday the audience members seemed more like WWE fans.
Jon Lovett, a former Obama administration speechwriter, asserted that the problem is worsening as the debate season wears on.
"The audiences getting worse and worse at these debates," he tweeted, calling it a "vicious cycle feeding off of Trump and what the previous audience did."