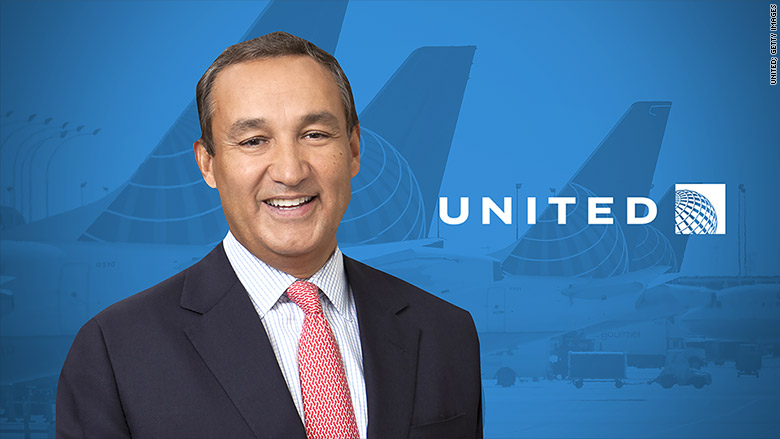 United Airlines' CEO will be back at work full time next week after undergoing heart transplant surgery on January 6.
Oscar Muñoz, 57, is due back March 14, and said in a statement Sunday that he is "thrilled" to return.
He was named CEO in September 2015 and began medical leave after just 41 days following a heart attack.
Brett Hart, United's general counsel, has been serving as the acting CEO.
Muñoz spoke to analysts on the company's latest earnings call in late January, and has been steering the company at varying degrees.
Before his heart transplant, Muñoz "had been cleared to return to work" with the use of an implanted medical device. He also said shortly after his heart transplant that he planned to "participate in key meetings" before returning full time.
Muñoz had been president of CSX (CSX) Corp, a railroad company. He took over at United (UNITED CON) from Jeff Smisek, who left amid a federal investigation into whether it created a flight from Newark to South Carolina solely to benefit the former chairman of the Port Authority of New York and New Jersey.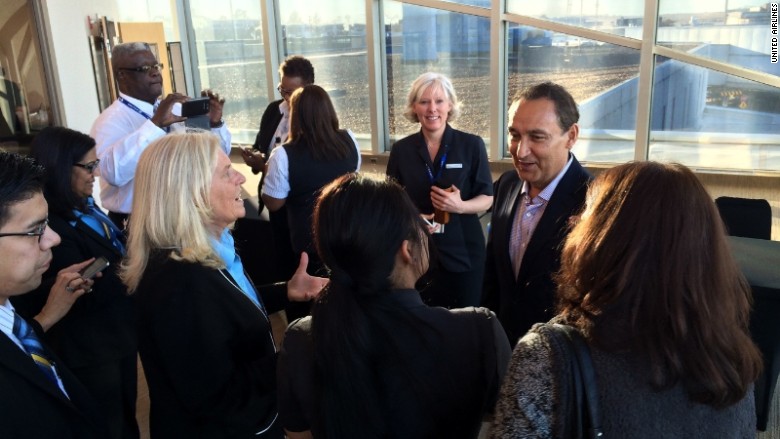 United had other problems too: It ranked low in customer satisfaction, employee morale was hurting, and United's stock was on a downward slide.
In a statement Sunday, Muñoz said the company is "performing well."
"[O]ur team has been focused on our employees, improving the operation and the customer experience, and the results are starting to show," he said. "United's 2015 earnings were one of the best in the Company's history."
Related: United buying 40 new 737-700s to upgrade fleet
United reported a record profit in January, and its stock is up nearly 20% over the past month -- though it's still down 15.5% from 12 months ago.
According to the most recent data from the Bureau of Transportation Statistics, United has moved from eighth to fifth in the rankings for on-time arrivals between the first and final quarter of 2015.
The airline also said it has added free snacks, premium coffee, better in-flight Wi-Fi and upgraded airport lounges over the past few months, looking to bolster customers' experience.
However, complaints about the airline to the federal Department of Transportation actually increased in the most recent report from the BTS.