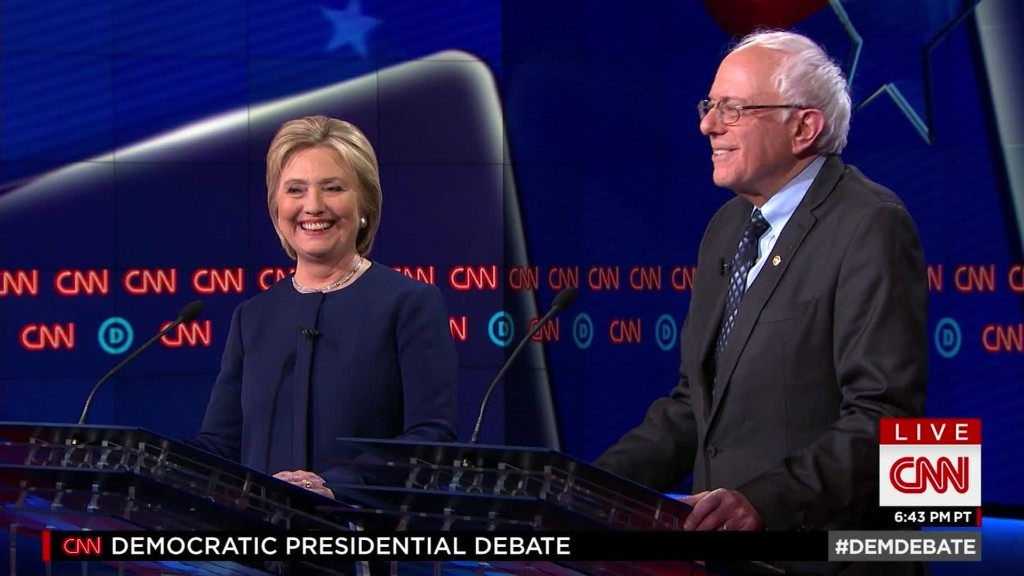 CNN's Democratic debate in Flint, Michigan drew 5.5 million viewers on Sunday night, 1.8 million of whom were in the key advertiser demographic of 25- to 54-year-olds.
The Hillary Clinton-Bernie Sanders face-off was the second lowest result for any debate so far this season.
The debate faced stiff prime time competition plus a political reality: The Republican race is much more interesting to viewers right now.
Fox News Channel's GOP debate averaged 16.8 million viewers earlier in the week in Detroit.
Data from Nielsen Twitter TV ratings shows a similar dynamic in social chatter about the debates.
Nielsen counted 923,000 tweets about the Democratic debate and 2.3 million about the GOP debate.
The Democratic debates have been lower-rated than the Donald Trump-fueled GOP showdowns ever since last summer.
Related: How Donald Trump broke Fox News' debate rules
The Democrats' high was the first one of the season, in October on CNN, which 15.8 million watched.
The low was on February 4, when a hastily-scheduled debate on MSNBC drew just 4.5 million viewers.
The most recent Clinton-Sanders debate, on February 11, was in between. It totaled 8 million viewers between two channels, PBS and CNN.
Sunday's debate was heavily promoted but was scheduled on a very busy night of programming, with the "Downton Abbey" series finale on PBS, the highly-rated "Madam Secretary" on CBS, and other shows.
Related: Rowdy Detroit audience raises question: Should debates have audiences?
CNN used the debate to premiere a new documentary series, "Race for the White House," narrated by Kevin Spacey. The scheduling move seemed to pay off, with nearly half of the debate audience -- 2.6 million -- sticking around for the premiere.
"This represents the best CNN Original Series premiere ever," CNN said in a press release.