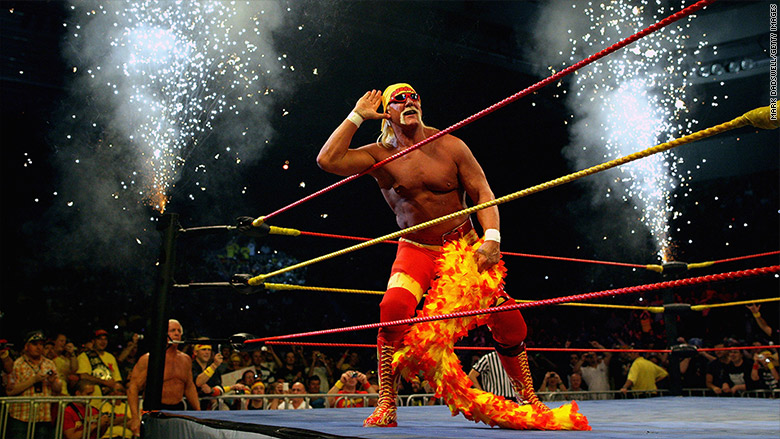 Professional wrestling used to live by the strict rule of "kayfabe" -- pretending that the sport was genuine -- but the "sport" really became popular when it stopped "insulting the intelligence" of fans, Hulk Hogan told a Florida courtroom Monday.
The ex-wrestler was testifying in his $100 million lawsuit against Gawker Media when he described his career as Hulk Hogan.
Hogan, 62, said that professional wrestling in the mid-1970s tried to pretend that it was a legitimate sport and was trying to "get all the beer drinkers and cigar smokers in the front row that wanted to see blood."
Kayfabe, which portrays the events that take place in wrestling as real, was somewhat a code word for Hogan and his fellow wrestlers to stay in character even away from the ring, he said.
Related: Hulk Hogan left 'violently shaking' when sex tape made public
"There was a general rule called kayfabe that if you and I were talking about wrestling and someone was to walk up," and Hogan then mimicked muttering "kayfabe" out the side of his mouth as a reminder to stay in character. "That was just the general theme."
But in the 1980s, pro wrestling shifted its view to "get the families in the front row" and focused on being "sports entertainment."
Related: Gawker live streams its own trial vs. Hulk Hogan
"So we told everybody, look, wrestling is an exhibition. We know who's going to win or lose," Hogan said. "That's when it really took off, when we stopped trying to insult the public's intelligence."
The former professional added that Wrestlemania I in 1985, which included wrestlers, singers, and athletes like Muhammad Ali, was "the first of 'sports entertainment.'"
Despite the choreography and scripted bouts, Hogan said wrestling is "very physical" which has caused him multiple surgeries over the years.
"It was very physical then," Hogan said. "It's very physical now."