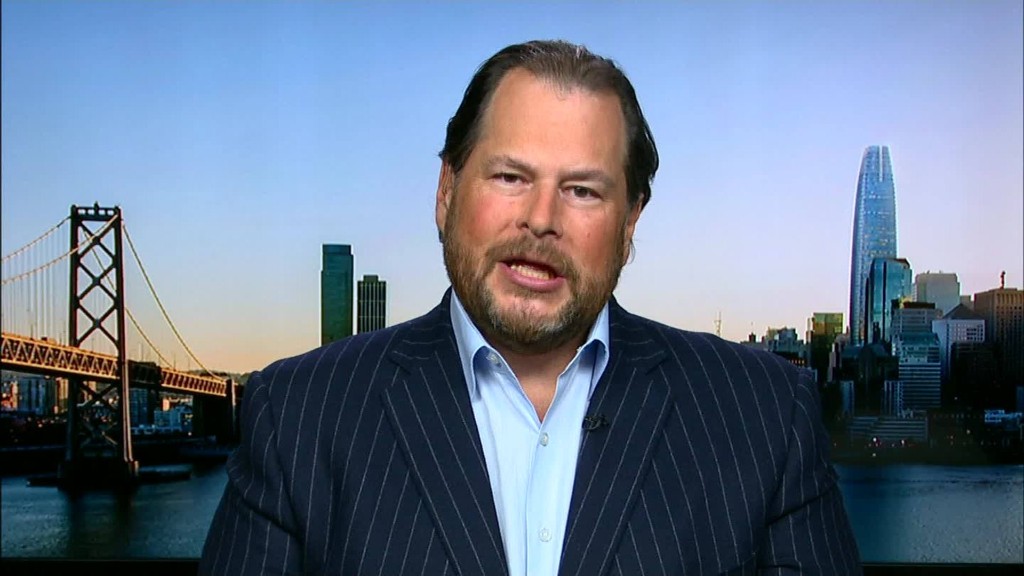 The CEO of
Salesforce.com

(CRM) is backing the Clinton campaign.

Marc Benioff -- who heads the Fortune 500 cloud computing company -- came out in support of Democratic frontrunner Hillary Clinton on Monday as his pick for the Oval Office because of her focus on education, saying he's "deeply worried" about the state of America's schooling.

"By 5 years old your destiny in this country is set," Benioff told CNN's Poppy Harlow, "and that's where I am disappointed that I haven't heard more of that narrative, and I feel the one person who has delivered that discussion over and over again, including her Too Small To Fail initiative, is Hillary Clinton, and that's why I am backing her."

Benioff also said he did not disagree with HP's CEO, Meg Whitman, who said that Republican hopeful Donald Trump poses a major threat to the U.S. economy with his plan to impose a 35% tax on imports.

However, Benioff also said it's "too early to tell" whether a Trump presidency would be bad for American businesses.

But the economy is not the reason Benioff is casting his ballot.

"I am more concerned about the kids and the educational system and getting kids onto the right track," he said.

Benioff says he does not affiliate with either party. In 2012, he donated to both President Barack Obama and Paul Ryan's campaign.

However, according to OpenSecerets.org, Benioff made two $33,000-plus donations to Democrat-affiliated groups in 2015.

Last year, Benioff took a high profile position against a controversial Indiana religious freedom law that would have permitted businesses to refuse to service gay, lesbian or transgender people on religious grounds.

He's taken a similar stance against a bill making its way through the Georgia legislature, saying he won't bring his business to a state that discriminates against the LGBT community.

"It is unacceptable to our employees and it is unacceptable to all of our stakeholders ... We can't have a program -- a major conference or a major employment surge -- in Georgia when it becomes a discriminatory state," Benioff told CNN Monday.

The company sent a letter dated March 2 to Georgia lawmakers urging them not to pass the bill.