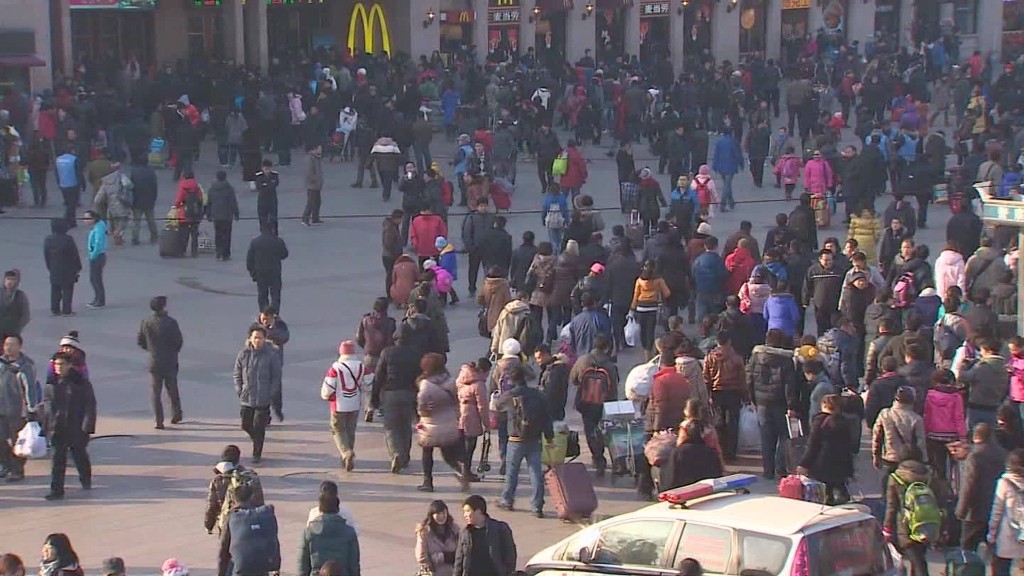 China is still tapping into its giant cash stockpile to fend off pressure on its currency, but the pace has slowed significantly.
The country's foreign exchange reserves shrank by about $29 billion in February to $3.2 trillion, the central bank said Monday. That decline is much less steep than the alarming drops of $99.5 billion in January and $108 billion in December.
Huge sums of money have been pouring out of China in recent months as its economy has slowed and its currency has weakened. These so-called capital outflows have put downward pressure on the yuan, and Beijing has been trying to balance that by using its foreign currency war chest to buy more yuan.
Related: China's options to try to dodge a currency crisis
It's a strategy many countries use, but it can deplete a central bank's "rainy day" reserve fund. Analysts had been warning that Beijing couldn't keep using this approach indefinitely.
The recent data, however, "suggest that capital outflows eased last month, allowing the People's Bank of China to slow the pace of its foreign exchange sales," said Julian Evans-Pritchard of Capital Economics.
"The PBOC still has plenty of firepower to defend the currency, and the current composition of China's capital outflows ... is more benign than the bears claim," he said.
Analysts have estimated that hundreds of billions of dollars -- perhaps as much as $1 trillion -- poured out of China last year. Investor confidence hasn't been helped by volatility in the Chinese stock market, and difficulties in the real estate sector.
Related: China hemorrhaged $676 billion last year
Capital flight is something the government has long been worried about.
China limits the amount of money an individual can move out of the country to $50,000 per year. In response to the increase in money flowing out, Beijing has taken further steps to try to close off ways through which extra funds could leak out. In September, it clamped down on the amount of cash its citizens can withdraw from ATMs overseas.
-- Shen Lu contributed to this report.