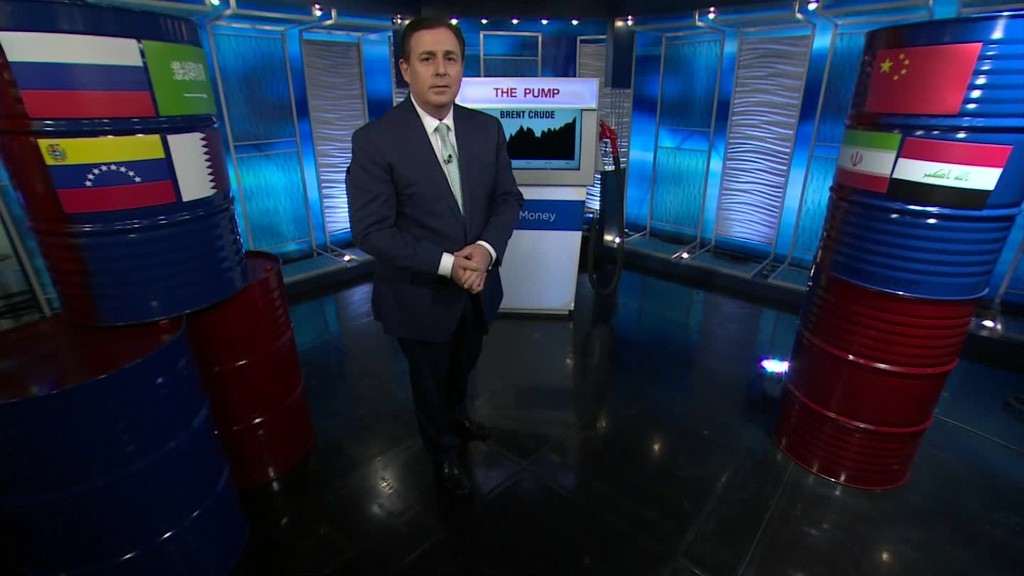 Oil prices have spiked an unbelievable 42% in just over three weeks.
Prices stopped collapsing on February 11 after briefly sinking to $26 a barrel. Oil has zoomed back to $37 a barrel today, a remarkable rally that has inspired a big comeback in the U.S. stock market.
But given the epic oil supply glut, is the crude surge really justified? Goldman Sachs doesn't think so. There's been a "premature surge" in commodity prices that is "not sustainable," Goldman argues in a new report published on Tuesday.
In fact, the influential investment bank warns the oil rally could do more harm than good to future prices.
"Energy needs lower prices to maintain financial stress to finish the rebalancing process," Goldman commodities head Jeffrey Currie wrote. "Otherwise, an oil rally will prove self-defeating."
That's exactly what happened a year ago. Oil prices appeared to have "bottomed" last March at around $43 a barrel. By early May they had surged back above $60 a barrel.
Related: Why the oil crash isn't a repeat of 2008 crisis
Of course, that rally proved to be a head fake -- one that only encouraged global oil producers, especially price-sensitive U.S. shale companies, to keep pumping.
The same thing could happen now if the rebound in oil prices allows struggling shale producers to avoid financial stress (like bankruptcy or fire sales) and keep the pumps going.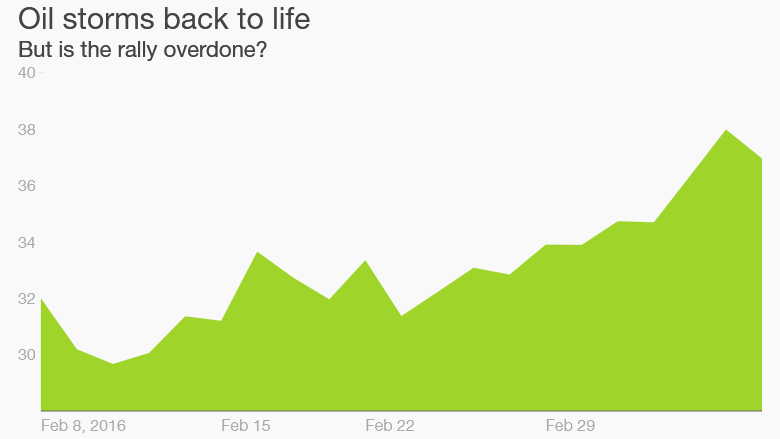 That would only deepen oil's huge oversupply problem. Just last week in the midst of the oil rally investors learned that U.S. stockpiles of oil rose by another 3.5 million barrels to nearly 508 million barrels.
"The current oil market is still in a large surplus," Goldman wrote. "Higher prices are much harder to sustain in a supply-driven market since supply is primed to return with higher prices. But this lesson will likely only be learned through false starts."
Sure enough, oil prices cooled off considerably on Tuesday. Crude dropped 3% to $36.80 a barrel, on track for its biggest loss since February 19. U.S. stocks also retreated, led by an 18% plunge for Chesapeake Energy (CHK) and double digit declines for other energy stocks Southwestern Energy (SWN), Ensco (ESV), Murphy Oil (MUR) and Freeport-McMoran (FCX).
To be fair, there are reasons why oil has come back to life.
Related: Is the oil crash over?
First, the American oil boom has slowed a bit. U.S. output in December was down 2% from the year before and 4.5% off the April 2015 peak.
That trend could continue. U.S. oil companies have predicted 2016 output declines. Goldman says they translate to a reduction of about 600,000 barrels per day.
Second, global oil producers like Saudi Arabia and Russia have at least started to talk about freezing production, albeit quite tentatively.
Oil has also benefited from fading recession fears. Investors are no longer fearing China is heading for a disastrous hard landing and the U.S. economy is holding up better than feared.
Goldman too believes these factors will turn the oil supply glut into a supply deficit. But not just yet.
"While we still believe oil will likely rebalance this year and create a deficit market by year end, 'green shoots' of a deficit alone are not sufficient for a new sustainable bull market," the firm wrote.