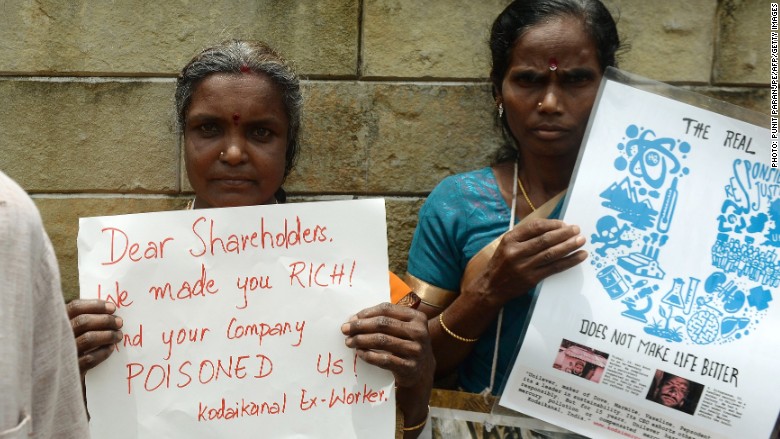 Fifteen years and one viral video later, Unilever has agreed to compensate hundreds of its former workers who claim they were exposed to toxic mercury while working for the company in southern India.
Unilever (UL) announced Wednesday it reached a settlement with 591 former workers from its now-closed thermometer factory in Kodaikanal.
The group of workers and their families filed a lawsuit against Unilever in 2006, claiming they were poisoned while working with mercury at the factory. The plant was shut in 2001, amid concerns about the way it handled toxic waste.
But even as it settled the case, Unilever denied the allegations.
"Several expert studies have been conducted since the factory's closure and all have concluded that our ex-employees were not harmed by working in the former thermometer factory in Kodaikanal," the company said in a statement Wednesday, adding that it had settled "on humanitarian grounds."
Related: Delhi's fight for clean air
The case received global attention after environmental activists released a music video attacking the company. The rap song, performed by Indian singer Sofia Ashraf, outlined the story of the troubled factory and alleged mercury poisoning.
To date, it has received more than 3.6 million views.
Just six months after the video's release, Unilever agreed to pay up.
The company said it entered into the settlement "on humanitarian considerations."
The size of the payment was not revealed publicly, but both sides said it was satisfactory.
Related: Johnson & Johnson to pay $72 million in a powder cancer case
But the environmental activists behind the lawsuit say there's more to do for Unilever.
"The much-delayed settlement is great news, but Unilever still has unfinished business in Kodaikanal," said one of the advocates, Nityanand Jayaraman.
The activists say the amount of mercury in soil Unilever left behind after a cleanup is still too high. They are fighting for the company to do a deeper clean.
"You can expect a high-decibel global campaign in the coming months to ensure that Unilever cleans up its mercury contaminated site in Kodaikanal to international standards," Jayaraman added.
Unilever said it has submitted a proposal for soil remediation in August, and is now waiting for consent from the authorities. It said it would start the cleanup process as soon as it receives it.