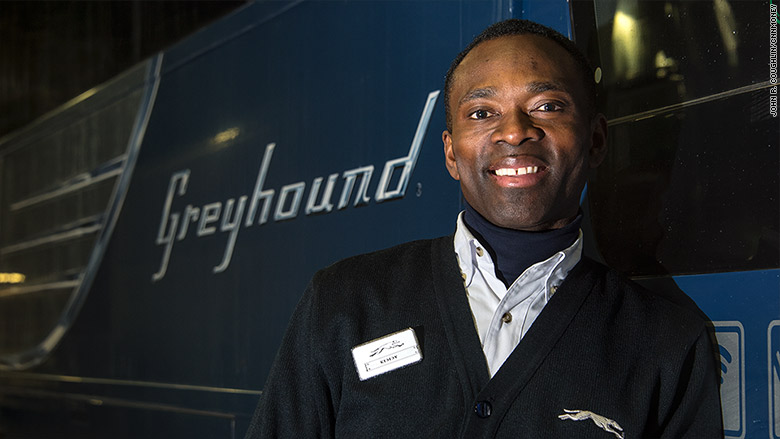 Edmund Marfo's job isn't glamorous and it likely won't make him rich, but he still goes above and beyond every day at work.
Managing the Greyhound Bus Lines' arrival and departure gates of New York's Port Authority -- the world's busiest bus depot -- the 43-year-old Ghanaian immigrant stands out as a beacon of positivity, keeping order and doling out helpful information.
"I like to help people as a way to motivate myself," Marfo said. "I like the effect I have on people. I like to put a smile on their face."
The job has allowed him to save money and support his fiance and six-year-old son, who live in London. He eventually hopes to go back to school and become a pharmacist.
But years ago, it was a much different story.
Marfo came to the U.S. in 1998, after winning a visa lottery sponsored by the American embassy in Accra, Ghana's capital.
Related: Immigrants: These cities want you!
"People in Ghana see the U.S. and U.K. as heaven, so when I got the chance to come it was like hitting a jackpot," Marfo said.
His family helped him purchase airfare.
"When I came here I saw that it was the land of opportunity," he said. "But America is also a place where you can be stuck."
At first, Marfo lived with his uncle in the Bronx for about three years. His uncle, who worked in Greyhound's shipping department, helped him get a job as a baggage handler for the bus line.
Eventually, his uncle moved to Texas. But Marfo stayed. "I felt at home here," he said.
Staying hasn't been easy, though. Rents, even in New York City's far flung boroughs, have skyrocketed.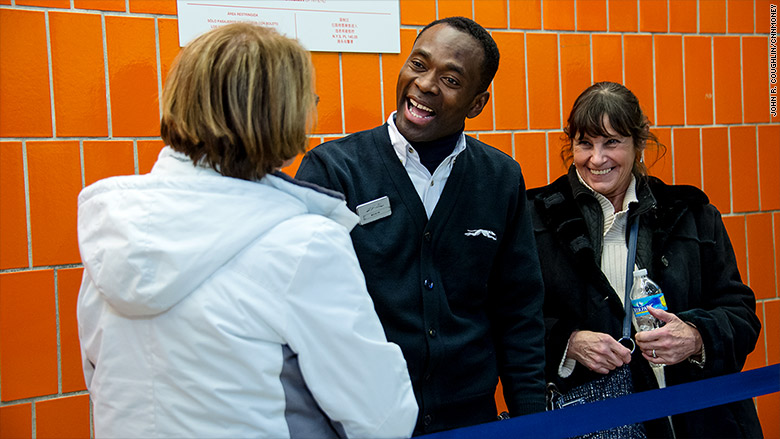 "I was trying to go to school, sending money home and helping my mom due to medical problems in Africa," he said.
Eventually, Marfo fell behind on his finances. He says he worked out a payment plan with his landlord, but his debts, including his credit card debts, kept accumulating. In 2004, he filed for bankruptcy.
"Since then, I've come a long way." Marfo said.
He now lives in Irvington, New Jersey, about an hour outside of New York City. He has also moved through the ranks at Greyhound, from baggage handler to lead customer service agent, managing eight other workers on the floor.
Including overtime, he says he makes about $38,000 a year.
"It's not all that, but I live within my means and I'm making an effort to recover my credit," he said. "I'm independent and I feel good about it -- I love it."
Related: America is missing out on a $1.4 trillion Latino business opportunity
Still, Marfo and his team often deal with tired and angry passengers. Marfo said he has even been spit upon.
"Sometimes they make you feel like what you're doing is wasting your time," he said. "But my positivity is going to pay off because I'm sitting back and looking at the globe of success."
After all, Greyhound's own CEO, Dave Leach, began his career as a baggage handler in 1986, said Andrew Kaplinsky, Greyhound's chief commercial officer.
It's employees like Marfo that executives at the 100-year-old company hope will overcome customer service perceptions that they admit are decidedly negative.
"Imagine if we did things right? How big we could grow? There's so much opportunity to do things better," said Kaplinsky.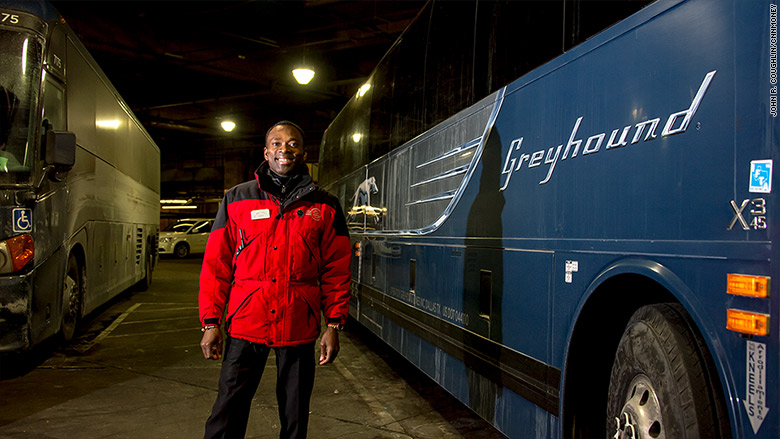 He said that the company is working to provide more customer service training to its workers but he said it's imperative that employees believe in the company and take pride in their work, like Marfo does.
"You can give all the customer training to a disengaged employee you want and it wont help," he said.
Related: Former child bride becomes India's 'first female taxi driver'
In order to get workers more engaged, Kaplinsky said executives are visiting Greyhound terminals to hear from employees about what's working for them and what's not. The hope is that the interactions will energize employees and lead to better experiences for customers, he said.
Although it would be hard to match Marfo's enthusiasm.
"I welcome everybody like I'd welcome my family," said Marfo. "This is what I do, and this is how I can make a difference."