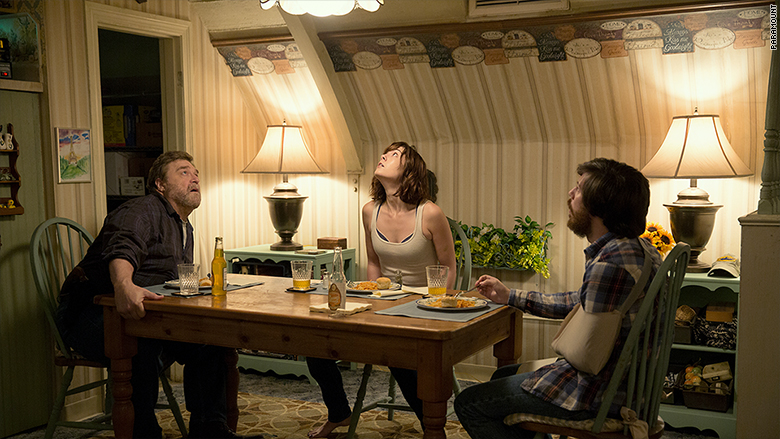 The movie "10 Cloverfield Lane" is shrouded in mystery, but that isn't stopping the buzz around the frightening feature.
The Paramount film, which takes place in an underground bunker during a possible apocalyptic event, is produced by J.J. Abrams, stars John Goodman, and is projected to have a $25 million North American opening weekend, according to box office analysts.
That's about as much as anyone knows about the film seeing that its marketing campaign has kept its secrets, well, secret. But according to Shawn Robbins, senior analyst at BoxOffice.com, less may be more for the film's ticket sales this weekend.
"The mystery Abrams strives to maintain has been lovingly joked about, but it's a welcome relief from over-saturated movie marketing campaigns that give away the game months in advance," Robbins said. "He champions the genuine experience of seeing a story unfold spoiler-free, and that in itself is a selling point -- especially for a movie like this."
The film, which is opening in 3,200 theaters, is a quasi-sequel to the sci-fi monster movie, "Cloverfield." That film surprised the industry with a $40 million opening in 2008 using same type of mysterious marketing that teased rather than told.
"Cloverfield Lane" is also using the name of its producer, Abrams, to help boost its credibility with audiences.
Related: 'Star Wars: The Force Awakens' to become third film to cross $2 billion
Abrams, who is coming off the biggest blockbuster in U.S. history, "Star Wars: The Force Awakens," has been at the forefront of the film's promotion even though the film is actually led by first time director, Dan Trachtenberg.
By using Abrams' name, the film is able build its reputation with audiences who joined him in a galaxy far, far away in December.
"Abrams has a considerable fan base following every project he's involved with, and casual movie goers are almost certainly coming to know his name if they didn't already," Robbins said.
The box office for "10 Cloverfield Lane" also looks to benefit from scarily good reviews. The film currently holds a 92% score on RottenTomatoes.com with critics praising the film as tense and well crafted.
Despite its marketing efforts, it appears that "10 Cloverfield Lane" may come up short of the top spot at the box office this weekend.
Related: 'Zootopia' roars to biggest opening in Disney Animation history
Disney's "Zootopia," which had a record-breaking opening for Disney Animation Studios last week, is poised to take the top spot at the box office again this weekend.