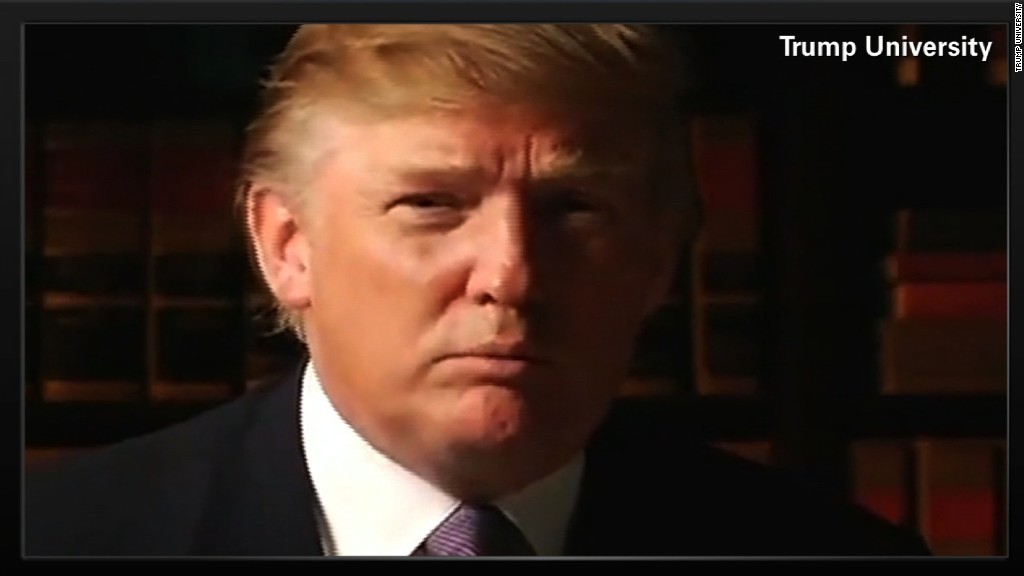 A woman who has been fighting Donald Trump in court for six years has had enough.
Tarla Makaeff, whose name is on one of the class action suits against Trump University, wants to drop out of the case. She says she is tired of public attacks by Trump.
Makaeff simply "wants her life back without living in fear of being disparaged by Trump on national television," according to a motion she filed in court asking to withdraw.
At a campaign rally last month, Trump called her a "horrible, horrible witness," according to court records.
The lawsuit charges that Trump defrauded thousands of students by falsely promising that he had handpicked instructors to teach them his secrets of how to make money in real estate. It is one of two class action suits in federal court against Trump and the school, which closed in 2010.
New York Attorney General Eric Schneiderman has also brought a civil suit in New York against Trump University.
Related: Trump University controversy - In 2 minutes
Trump's lawyers are opposing Makaeff's request to withdraw. They argue that their strategy has been built around plans to attack her credibility in court. So it would be unfair if they don't have Makaeff to attack, they say.
"Makaeff's participation in this case, particularly as a live trial witness, is essential to the trial strategy and defense defendants have been developing for almost six years," said the motion from Trump's attorneys. Makaeff's lawyers rebut that argument.
Related: Trump's modeling agency broke immigration laws, attorneys say
Makaeff and Trump have been feuding in court for years. Shortly after she filed the Trump University case in April 2010, Trump brought a counter suit. He claimed that she had defamed him, but the court disagreed and in April 2015 it ordered Trump to pay Makaeff nearly $800,000 in attorney fees.
One of the key Trump attacks against Makaeff center on videos of her praising Trump University when she was a student.
But her lawyers argued that she didn't realize at the time that she and other students had been deceived by false promises from Trump University, and because the school had promised students it would continue to provide contacts and other assistance on future real estate deals.
The court agreed with that argument when dismissing Trump's counterclaim against Makaeff. It ruled two years ago that "as the recent Ponzi-scheme scandals involving onetime financial luminaries like Bernard Madoff and Allen Stanford demonstrate, victims of con artists often sing the praises of their victimizers until the moment they realize they have been fleeced."