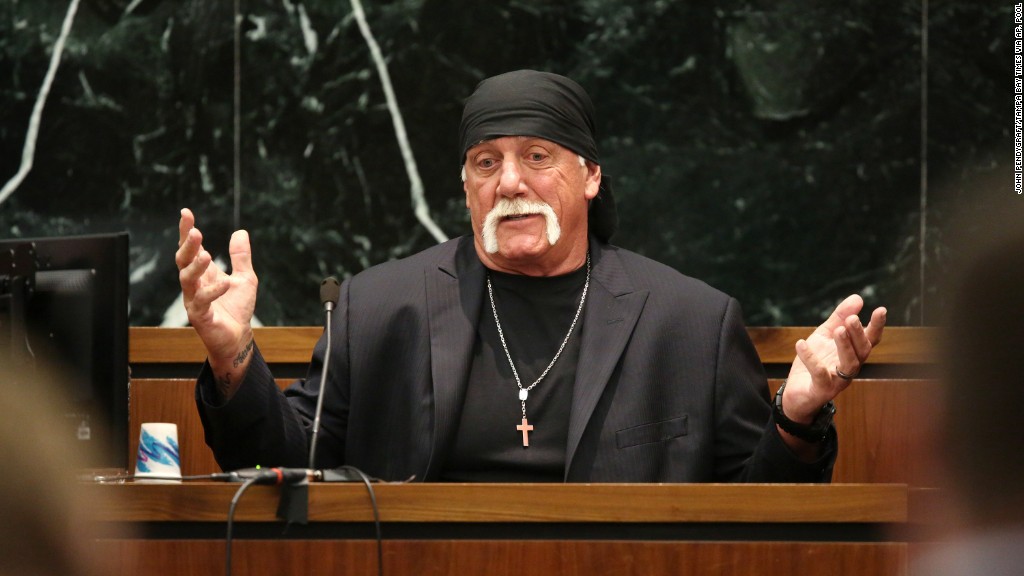 Attorneys for Hulk Hogan spent the last week trying to convince a Florida jury that Gawker is as shameless as it is reckless, a website that will do just about anything for clicks.
The man held up as the poster child for that editorial philosophy was A.J. Daulerio, the former Gawker editor who published excerpts from Hogan's sex tape in 2012.
Hogan, whose real name is Terry Bollea, is suing Daulerio, Gawker founder Nick Denton and the site's parent company in a $100 million invasion of privacy trial in St. Petersburg, Florida.
Daulerio, 41, is expected to testify on Monday, when lawyers for Gawker begin their defense.
Seated next to Denton all week, he was mostly stoic while Hogan's lawyers presented their case.
The attorneys detailed Daulerio's oeuvre at both Gawker and the company's sports and culture site, Deadspin.
In taped depositions shown in court, Daulerio was asked about stories featuring explicit photos of NFL great Brett Favre and Kate Middleton.
When he takes the stand on Monday, Daulerio will probably need to make up for the first impression he made to jurors.
Throughout the depositions, Daulerio was at turns detached and flippant.
In testimony given in 2013, he was asked if he would be upset if a tape of his own sexual encounters surfaced online. "I somewhat expect that to happen at some point," Daulerio said.
At another point in the same deposition, Daulerio was asked where he would draw the line with a celebrity's sex tape.
"If they were a child," he replied.
"Under what age?" the attorney asked.
"Four," Daulerio said.
Gawker said that Daulerio wasn't being serious, but Hogan's attorney David Houston believes it was a crucial moment in the trial.
"To suggest now that he was just joking is absurd," Houston told CNNMoney on Friday.
Related: Hogan's expert witness struggles on the stand
Ryan Kerns, a Los Angeles-based attorney who was in St. Petersburg covering the case for the website Wild About Trial, said that Monday's testimony gives Daulerio a chance to articulate Gawker's defense: that the site's publication of a one minute and 40 second package of Hogan's sex tape is protected by the First Amendment because the subject was legitimately newsworthy.
Daulerio "did not do himself or the defense any favors with his deposition testimony," Kerns said.
"Jurors may not get his unique sense of humor, or appreciate it," Kerns told CNNMoney. "Hogan's lawyers have painted A.J. as a cocky, elitist smut peddler, and he'll have to take the stand himself to change that narrative."
That sense of humor is well-known to Daulerio's readers, as well as his colleagues in New York City media. He was the top editor at both Gawker and Deadspin and one of the company's most distinct personalities.
Related: Hulk Hogan trial testimony gets raunchy
Daulerio wrote candidly about his experiences, which ranged from absurd to intrepid. In 2011, Daulerio documented his time playing Xbox while tripping on LSD. A little more than a year later, he traveled to Cairo to cover the protests that erupted in Tahrir Square.
When Daulerio left Gawker in 2013, Denton expressed amazement at what the editor was able to accomplish.
"I don't know how he does it," Denton said of Daulerio. "I mean, I really don't fully understand: AJ breaks all the usual rules of orthodox management and has still been the most successful editor of Gawker.com."