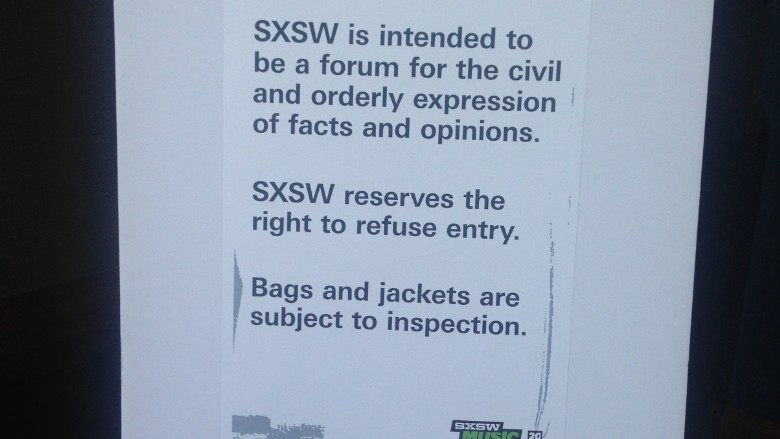 SXSW hosted its first-ever online harassment summit on Saturday.
The atmosphere at the summit matched its sobering content. Security was much tighter than the typical SXSW panels. It including bag checks upon entering the building, policemen outside of bathrooms and panels, and constant reminders not to leave bags unattended or they would be "confiscated and destroyed."
Each session began with a reading of SXSW's code of conduct -- something that isn't done at other panels.
It painted a stark picture of the day-to-day fear that online harassment victims live in.
Related: How one hashtag can ruin your life
Held at the Hyatt Regency Hotel, it was also distinctly separate (across the Colorado River) from Startup Village, the Austin Convention Center, and popular bars and restaurants where companies host their festivities.
That's perhaps one of the reasons why the event was sparsely attended. It was hard not to notice more empty seats than people.
Those on panels, though, opted to see the bright side: They were given a safe space to shed light on some very real issues.
"It was a bit of an interesting road getting here, but we made it," said Brianna Wu on a panel on Saturday morning.
Wu is a game developer and frequent target of online vitriol. She said she's received roughly 200 threats on the Internet, including one man telling her he would put a drill through her skull and it would be the last thing she'd ever feel.
Olympic fencer asked to remove hijab for SXSW photo
"We're not talking about people saying, 'You suck' on the Internet," she said. "It's a lot more serious than that."
The seriousness of the topic had to be conveyed to SXSW itself. It canceled a pair of panels in October due to threats of on-site violence. Media companies like BuzzFeed and Vox threatened to boycott the festival as a result. SXSX added the day-long summit to the schedule after the outcry.
Power players from companies like Facebook (FB), Google (GOOG) and Cisco (CSCO) shared the stage with victims like Wu.
The volume of harassment -- from bullying to revenge porn -- is higher than ever, making it hard for platforms to respond quickly. Facebook head of policy management Monika Bickert said the company receives more than one million reports of violations from users every day -- which it manually vets to determine their validity.
Obama: We can't fetishize our phones
Jonathan Greenblatt, CEO of the Anti-Defamation League, told CNNMoney that companies like Facebook are dealing with an incredibly high volume of messages, more than 4 billion daily.
Greenblatt, who previously worked as a special assistant to President Barack Obama, said he's been the recipient of hateful tweets due to his role at ADL.
Related: Tech firms join Lady Gaga to fight online harassment
As for the summit, Greenblatt said the fact that key players gathered to spread awareness of the issue of harassment is a positive sign.
"It's a first start," he added. "[But] we're certainly not where we need to be."
SXSW did not respond to requests for comment about the summit.