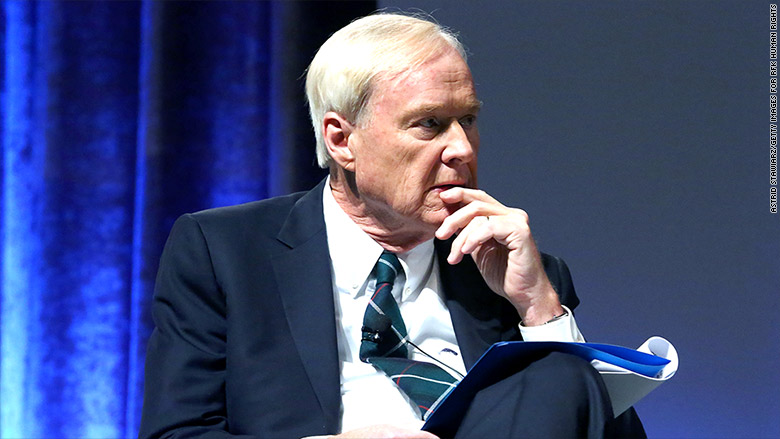 MSNBC's Chris Matthews is facing renewed scrutiny over his wife's congressional bid.
On Monday, Republican congressional candidate Aryeh Shudofsky called on MSNBC to suspend Matthews' show while his wife Kathleen Matthews, a Democrat, was in the race.
"Kathleen Matthews is a congressional candidate and is inappropriately benefiting from her husband's position," Shudofsky said, citing reports that guests on MSNBC's "Hardball" had contributed to Matthews' campaign.
Both Matthews and Shudofsky are running in Maryland's 8th Congressional District. They would face off against one another if they each won their respective primaries in April.
Chris Matthews has always been very open about his wife's political plans and pledged to be "as transparent as possible" with his viewers.
On Friday, however, The Intercept reported that Kathleen Matthews had received $79,050 in campaign contributions in 2015 "from prominent former and current politicians" featured on her husband's show.
Some of these contributions came just days before the guests appeared on Matthews' show.
New York Senator Kirsten Gillibrand gave $10,000 to Matthews' campaign two days before appearing on "Hardball," while California Senator Barbara Boxer gave $1,000 a day before being interview on the program.
"Basic ethics and precedent dictate that MSNBC should cancel 'Hardball' until Kathleen Matthews is no longer a candidate for Congress," Shudofsky said. "In 2003, Maria Shriver took an extended leave from NBC when her husband, Arnold Schwarzenegger, ran for governor, and relinquished her position when he ultimately won."
MSNBC said Matthews has not done anything wrong.
"Hardball has never booked a guest in exchange for a political contribution," a network spokesperson said. "That is an offensive accusation that would violate not only the standards of NBC News, but also Chris' personal ethics. Chris has been honorable to his network, his viewers, and his profession from the beginning of his wife's campaign and he will continue to be."