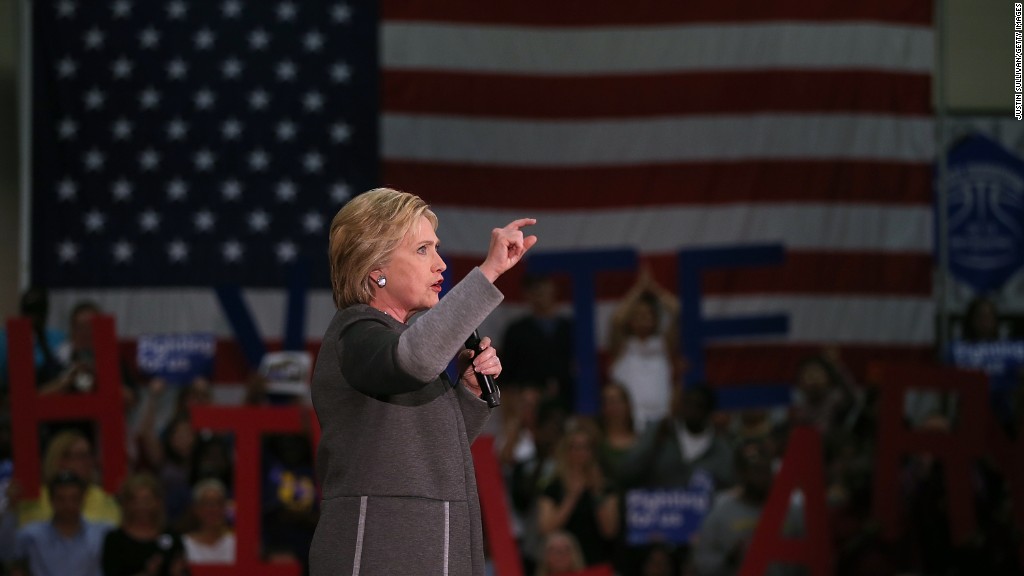 Hillary Clinton has no love for coal companies.
"We're going to put a lot of coal miners and coal companies out of business," Clinton said Sunday night. Her critics say she and President Obama are at war with coal companies.
But the war might already be over. Clinton won't have much coal to put out of business: the industry is already gutted.
The number of coal workers in the United States -- 57,700 -- is at a record low since data was tracked. Coal employment declined in every single month last year and it's down dramatically from the mid-1980s when there were over 175,000 coal jobs.
Related: Why Americans are so angry in 2016
Boone County in West Virginia is at the epicenter of the job losses in coal. It's lost about 4,500 coal jobs since 2009, according to Kris Mitchell, director of development for Boone County. Statewide, West Virginia has lost about 10,000 mining jobs over that time, Labor Department data shows.
West Virginia had the highest unemployment rate in the country of 6.7% in the last quarter of 2015, according to the Economic Policy Institute. Mitchell estimates Boone County's unemployment rate is closer to 10%.
"We've been more heavily impacted by the downturn in coal than anywhere else in the country," says Mitchell.
Clinton's main point Sunday night was that she plans to replace coal jobs with clean energy jobs in places like Boone County. So far, that hasn't happened.
"There's no one transitioning into green energy jobs," says Mitchell. "Some people still believe coal will come back."
Related: Solar energy jobs double in 5 years
Mitchell says local leaders aren't opposed to solar energy jobs. They just haven't had solar companies jump in yet. One major solar company, Vivint Solar (VSLR), declined to comment. Another solar employer, First Solar (FSLR), didn't respond to request for comment.
The solar industry could help fill some of the job gap in Boone County: the number of solar jobs nationwide has doubled in five years to around 209,000. The solar energy workforce is now three times the size of the coal mining industry. But most of these companies are located in the country's sun belt in states like Arizona.
On Monday, Clinton released a statement saying she plans to create a Coal Communities Challenge Fund to protect coal workers' benefits and pensions while transitioning coal country to clean energy industries.
In West Virginia, there's no major industry that's replacing coal, which has been the lifeblood of the local economy for over a century. Some job training programs in Boone County are popping up at the local community college and a training center for truck drivers. But they're not quite enough.
"When you don't have an industry to put them into -- what are you training them for? You're training them to leave," says Mitchell.