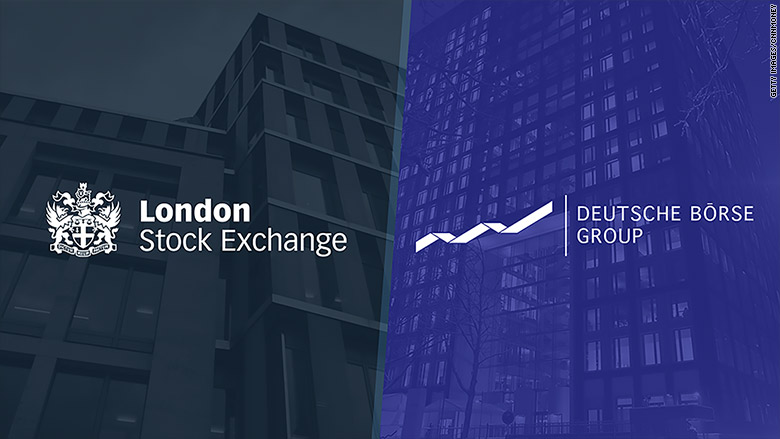 Europe is about to get a new financial markets giant with the scale to compete with U.S. rivals.
The London Stock Exchange (LDNXF), one of the world's oldest with a history stretching back more than 300 years, has agreed to join forces with Deutsche Boerse, which operates the main German stock market in Frankfurt.
Billed as a "merger of equals," the all-share transaction is effectively a takeover: Deutsche Boerse (DBOEF) shareholders will end up owning more than 54% of the new combined group, and the company's CEO -- Carsten Kengeter -- will be chief executive.
The agreement, announced Wednesday, should be completed by the end of 2016 or during the first quarter of 2017.
"As a combined group we will create a European player that will compete on a global basis," Kengeter said in a statement.
By acquiring its rival, Deutsche Boerse is building a powerful bridge between Europe's premier financial centers. London is a global center for banking and insurance, and Frankfurt is home to the European Central Bank and is the finance hub for Germany, the world's fourth biggest economy.
Related: Bank of England chief warns of Brexit risks
The deal still carries plenty of risk, not least the possibility that the U.K. will vote to leave the European Union in a referendum on June 23. A decision to quit the EU would create enormous uncertainty about how financial trading between the U.K. and Europe would be governed.
The companies said it was "impossible to model" the number of scenarios such a vote would throw up. They have set up a committee to advise them on the possible ramifications of the so-called Brexit, if it happens.
There's also still a chance that the agreed merger could scuppered by a rival bid for the LSE.
New York Stock Exchange operator Intercontinental Exchange (ICE), which owns markets in France, the Netherlands and the U.K. through its Euronext business, may yet enter the fray with a more generous offer.
It said earlier this month that it was considering making a bid for the LSE.
"No approach has been made to the Board of LSE, and no decision has yet been made as to whether to pursue such an offer," ICE said on March 1.