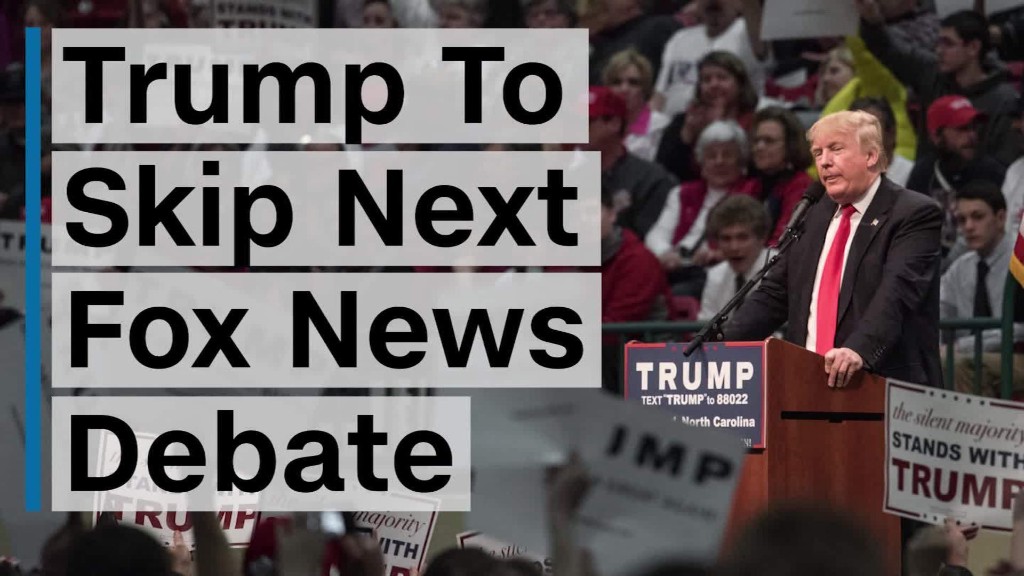 Fox News has canceled its March 21 Republican presidential debate following decisions by Donald Trump and John Kasich not to attend, three sources told CNNMoney on Wednesday.
Dan Hayes, the general manager of the Salt Palace Convention Center, which was scheduled to host the debate, said he had "received verbal statements from Fox News" that the debate would no longer be taking place.
Two Fox News sources familiar with the decision confirmed the debate had been canceled.
The cancellation comes after Trump said on Fox News a few hours earlier that he would not attend the debate, leading John Kasich to pull out as well. Ted Cruz said he was willing to debate either Trump or Kasich, or both.
"Obviously, there needs to be more than one participant," Michael Clemente, the Fox News executive overseeing the debate, said in a statement. "So the Salt Lake City debate is canceled."
On Fox & Friends on Wednesday morning, Trump said he will instead speak at the American Israel Public Affairs Committee on March 21. AIPAC said Trump is confirmed to speak at its annual conference about American policies on Israel.
Trump claimed that he only recently found out about the debate, and he can't cancel his speech.
"I'm making a major speech in front of a very important group of people," Trump told Fox & Friends.
Trump said he would consider doing future debates, though he declined to commit.
"I think we've had enough debates," Trump said. "How many times can you answer the same question?"
Hours later, Kasich strategist John Weaver issued a statement indicating that the Ohio governor would skip the debate unless Trump reversed his decision.
"If he changes his mind, we will be there," Weaver said.
Fox News had announced on Monday that it will host the March 21 debate in Salt Lake City, but the debate had been penciled into the calendar in February. It will be the 13th debate of the Republican presidential primary contest.
The debate will once again be moderated by Fox News hosts Bret Baier, Megyn Kelly and Chris Wallace.
If the Republican contest drags on into April, the Republican National Committee has allowed for the possibility of a 14th debate to take place in New York City.
The March 21 debate will take place at the Salt Palace Convention Center at 9 p.m. ET. It comes on the eve of the Utah and Arizona Republican primaries, and is the first presidential debate ever to be held in Utah.
Editor's note: The headline has been changed to more accurately reflect why the debate was canceled.