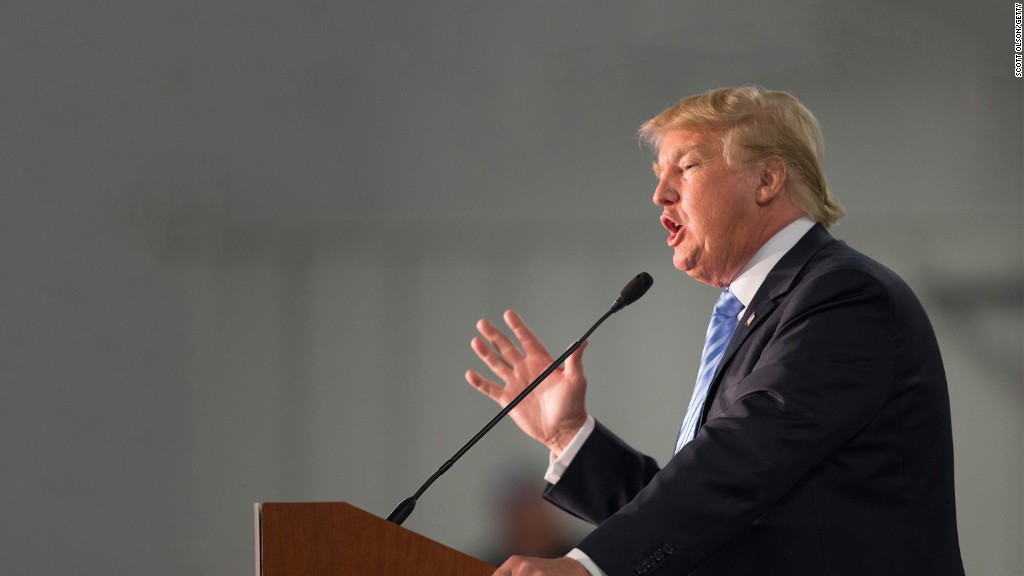 Donald Trump's campaign blocked a Politico reporter from attending the candidate's victory rally on Tuesday night, continuing a troubling trend of denying access to reporters who write critically about Trump and his campaign.
Ben Schreckinger, who has been covering Trump for more than six months, was denied access to Tuesday night's "press conference" -- Trump did not actually take any questions -- despite the fact that the campaign had already given press credentials.
In blocking Schreckinger, the Trump campaign appears to have been following through on a threat it made last week to exclude Politico reporters from campaign events because it did not approve of their coverage.
Schreckinger and his colleagues also reported Tuesday morning that Trump campaign manager Corey Lewandowski -- who was recently accused of assaulting a female reporter -- had a "quick temper and heavy-handed leadership," which was becoming a source of concern among fellow Trump staffers.
In a statement to CNNMoney, Trump called Schreckinger "a dishonest, third-rate reporter with a failing outlet that will soon be out of business, hopefully."
Susan Glasser, the editor of Politico, responded by saying she was "saddened by the personal nature of the Trump campaign's attack on an excellent reporter, Ben Schreckinger."
"The campaign provided no explanation for barring our reporter from Donald Trump's speech tonight," Glasser told CNNMoney. "If this is the response to honest, fair, and sometimes critical reporting -- like today's piece on Campaign Manager Corey Lewandowski — it certainly will not intimidate Politico as we cover the campaign in the days ahead."
Trump's campaign has blocked reporters from attending campaign events on several occasions, often in the wake of critical coverage. Reporters from The New York Times, The Des Moines Register, BuzzFeed, The Huffington Post, Univision and Fusion have all reported being blocked from Trump events.
Trump himself has made no secret of his feelings about the press. For several months, at nearly every campaign rally, Trump has railed against the media, referring to them as "the most dishonest people" or "absolute scum." He also frequently uses Twitter to criticize specific reporters and pundits who he doesn't like.
Despite enduring such criticism for several months, political reporters appear to be losing their patience. Reporters have become especially vocal after Trump and his campaign denied that Lewandowski had assaulted the female reporter and instead made an effort to tarnish her reputation, calling her "delusional" and claiming that she "made it up."
"Trump says he can stand up to world leaders & Congress, but he can't deal with honest and straight press coverage," Edward Isaac-Dovere, a senior Politico reporter tweeted on Tuesday night. "Recap: last [Tuesday], Trump campaign [manager] assaults reporter. Tonight, Trump campaign bars reporter who wrote [about] his history."
Trump, however, shows no signs of distancing himself from his campaign manager. On Tuesday night, Lewandowski appeared alongside Trump and even received the Republican frontrunner's thanks: "Good job, Corey," Trump said.