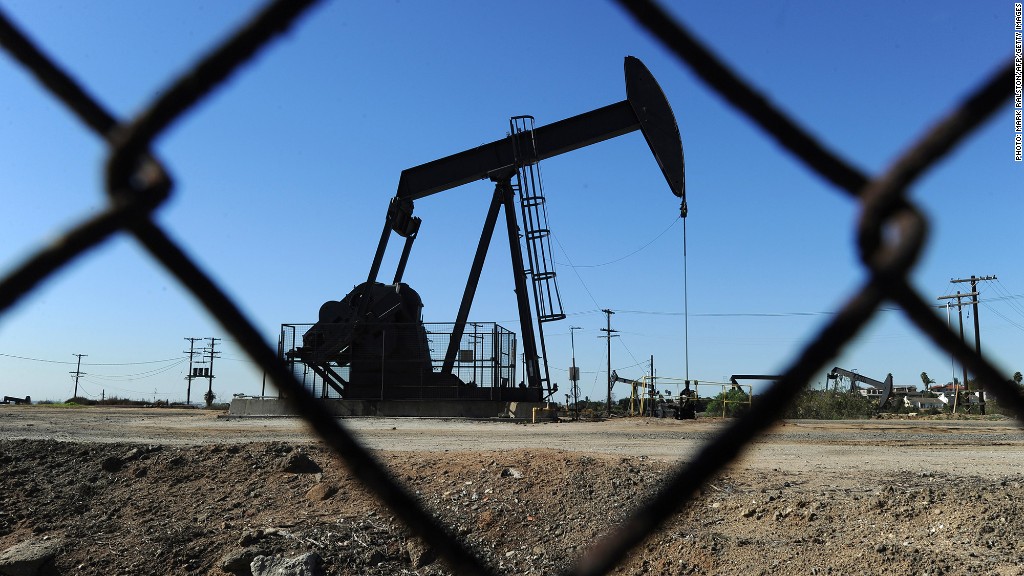 Crude oil is back from the dead -- for now at least.
Oil prices jumped to $40 a barrel on Thursday for the first time since early December. The milestone marks a dramatic 54% spike in the span of just five weeks when it hit a low of $26.05 a barrel.
But the speed of the recovery -- and the fragile drivers behind the move -- are raising questions over whether the rebound can truly last.
"The market is very, very skittish. We could continue to see volatility," said Tamar Essner, director of the energy team at Nasdaq.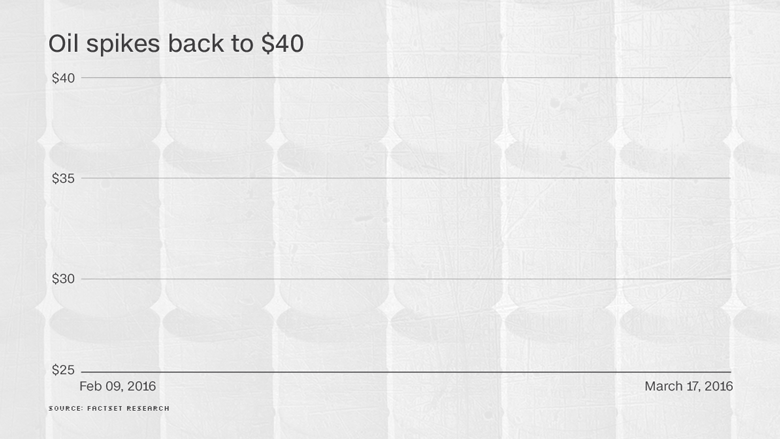 That's because the recent oil surge to $40 hasn't been fueled by significant improvements in the epic supply glut that caused crude to crash in the first place. It's been based more on hopes that OPEC and other global producers will reach a landmark agreement to "freeze" output.
Oil spiked on Wednesday after the key oil producers, led by Saudi Arabia and Russia, agreed to meet next month in Doha.
"I don't think this rally is based on fundamentals. We're still oversupplied. We're in the middle of a rebalancing process, one that takes time," said Essner.
That supply/demand rebalance has been aided by signs in recent months that the U.S.. -- the world's new swing producer -- is pumping less oil these days. If that trend continues, it could help mop up excess supply.
Related: Why the oil spike could back fire
Wall Street loves the oil comeback
No matter the driver, the oil rebound is putting Wall Street in a better mood. The oil crash to $26.05 a barrel was viewed by many as a sign of economic doom, causing the stock market to tank at the beginning of the year. But now the Dow has recouped much of its losses for the year. It's down less than 75 points year to date, up from a stunning loss of nearly 2,000 points at one point.
"Oil prices were unrealistically low. It was unsustainable and driven by speculation. It had nothing to do with reality," said Fadel Gheit, an oil and gas analyst at Oppenheimer.
It's important to remember that despite this recent rally, oil prices remain down more than 60% from their mid-2014 peak of $107 a barrel.
And many oil companies are struggling to make a profit at these low oil prices. At least 51 North American oil and gas producers have filed for bankruptcy since the start of 2015, according to law firm Haynes and Boone.
Related: Why people are freaking out about cheap oil
Is the worst over?
Still, the recent rally is raising hopes in the oil patch that the bottom was put in when oil fell to a 13-year low on February 11 (the same day the stock market bottomed out as well). Gheit said those cheap levels were unsustainable because it was below the price required to encourage the capital investment needed to meet the planet's still-growing demand for oil.
"We've seen the lows. At $30 oil, nobody is going to invest," said Gheit.
Why oil rebound could back fire
Essner argues that what matters is how long oil stays at depressed levels below $50. That will ultimately determine U.S. production and future prices.
The other issue is that if oil rallies too quickly, it could end up backfiring by encouraging shale oil producers to start pumping aggressively again. That will only deepen the supply glut. Those concerns led Societe Generale this week to slash its year-end oil forecast to $38 from $48.
"In 2016, any sustained rally above $45 should be self-limiting," said Mike Wittner, Societe Generale's global head of oil research.