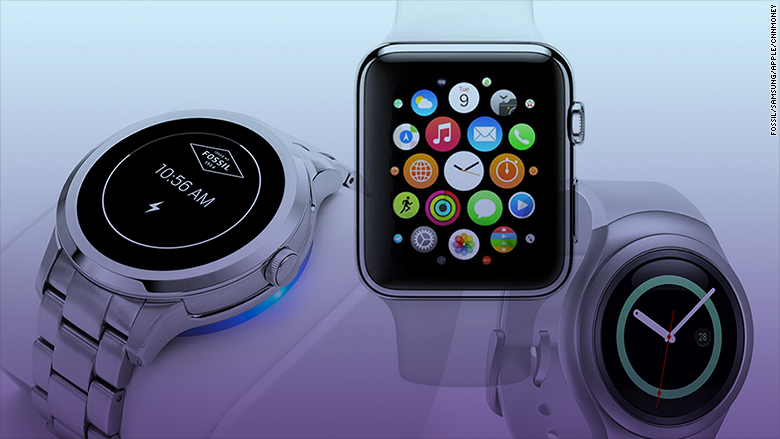 Traditional watchmakers need to get smart about fending off new competitors from the tech industry.
Gartner estimates that around 30 million smartwatches were sold globally in 2015, and sales will grow to 50 million this year, bringing in about $11.5 billion in revenue. By 2020, the smartwatch industry is forecast to bring in $19 billion based on sales of 87 million devices.
Contrast this with the traditional watch industry, which struggled with a number of headwinds over the past year.
Two of the largest jewelry and watch manufacturers -- Fossil Group (FOSL) and Swatch Group (SWGAY) -- experienced significant drops in revenue and profits last year. Sales of Swiss watch exports declined by 3.3% in 2015, bringing in 21.5 billion francs ($22.3 billion).
There's no doubt the industry is doing some soul searching as executives meet at the annual global luxury watch show Baselworld, which kicked off Thursday in Basel, Switzerland.
Of course, several different dynamics have created challenges for watchmakers. Some of it is related to the surge in the Swiss currency, which makes prices more expensive for foreigners. Other concerns originate from a slowing Chinese market, which has been one of the biggest growth opportunities.
On top of that, traditional vendors still seem to be overlooking the opportunities in the vibrant smartwatch market.
Related: The secret world of watch testing
The threat presented by the smartwatch industry varies by price segment.
The high-end luxury segment has retail prices ranging from $800 to $20,000. Examples include the Hyetis smartwatch, which start around $4,000. Apple's (AAPL) Hermes Watch starts at $1,000 and the Apple Watch Edition can cost as much as $20,000.
Mid-tier smartwatches are priced between $150 and $800. The majority of smartwatch companies have a product in this range. Examples include the Samsung Gear S2 and the Moto360.
The low-cost segment prices devices below $150 and will be driven by Chinese companies in the next few years.
Related: The lucrative art of celebrity watch endorsements
Gartner expects the majority of smartwatch demand to focus on low- and mid-range devices, while the luxury segment will only grab a small fraction of overall sales.
Consequently the high-end traditional watch market -- with prices above $10,000 -- may not feel as much competitive pressure from the smartwatch industry. Moderately priced watches from the likes of mainstream fashion brands such as Gucci and Burberry (BURBY) are facing the biggest threat.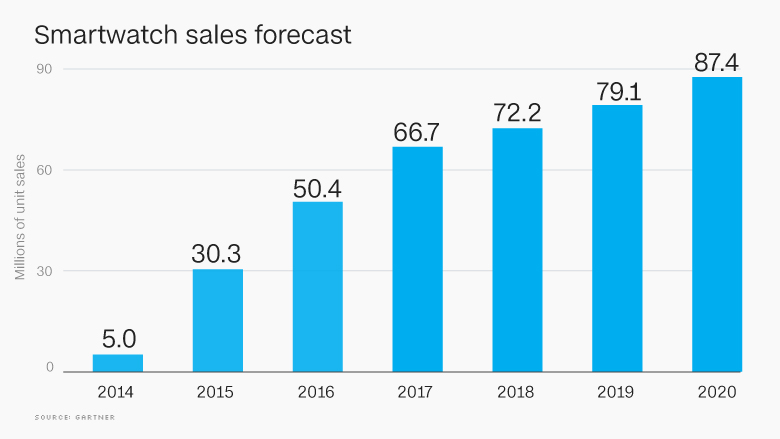 Watchmakers have reacted to this threat by introducing their own smart products like the Fossil Q, which runs on Android Wear, and the Guess Connect, which is powered by Martian technology. Fossil Group announced earlier this year it would launch more than 100 connected devices in 2016.
Indeed, the fashion industry is increasingly merging with the technology industry. Apple and Samsung (SSNLF) are working with fashion designers to create products that combine connectivity and convenience with flair.
We expect overlaps between the competing sides will continue as more fashion brands enter the smartwatch market, forming partnerships similar to those forged between Intel (INTC) and Fossil.
Annette Zimmermann is a research director at Gartner, focusing on global mobile and wearables trends. The opinions expressed in this commentary are solely those of the author.
Correction: An earlier version of this article reported an incorrect price for the Hyetis smartwatch.