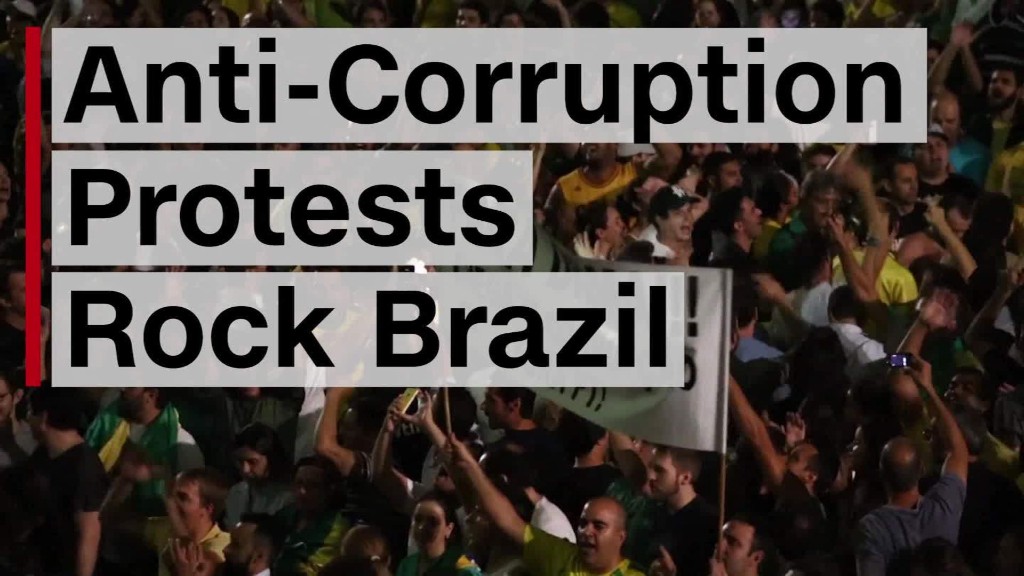 Brazil is spiraling dramatically into chaos even as the Olympics are fast approaching in August.
An increasingly uncertain political backdrop is sparking widespread, and sometimes violent, protests. The country is in the midst of its worst recession in 25 years. A massive corruption scandal involving its biggest company has engulfed numerous executives and politicians. Add to that the deadly Zika virus, and you have a country in crisis mode.
Concerns are rising over whether Brazil will be adequately prepared for this seminal global event. The International Olympic Committee told CNNMoney Friday that it is "very closely" watching the political events unfolding.
Related: Why Brazil is freaking out
The Summer games begin August 5 in Rio de Janeiro, and the world spotlight will turn on a nation at a crossroads.
Brazil was awarded these Olympics games in 2009, when the country's economy was booming. Now the country is battling a slew of social, economic and political challenges.
"This was going to be the coming out party for Brazil," says Paulo Sotero, director of the Brazil Institute at the Wilson Center. "This will probably be a scaled down party."
No one is saying the Olympics will be canceled. But there is the potential for more violent protests, a global travel warning ban is in effect advising pregnant women not to travel to Brazil and no one knows who will be president in August.
Related: Brazil recession: 'I've never seen anything like this'
Millions of Brazilians have taken to the streets to demand the impeachment of president Dilma Rousseff.
The political uncertainty escalated this week. On Thursday Rousseff appointed the former president, Ignacio Lula da Silva, as her chief of staff -- a move that would provide him with legal immunity from prosecution on corruption charges. Prosecutors have accused Lula of money laundering and identity fraud, claiming he covered up ownership of a vacation home.
Politicians, company execs and all types of elites have been embroiled in the gargantuan Petrobras scandal. And now, the next victims could be Rousseff and Lula.
"We don't know if we'll have this government or some other government when the Olympics arrive," says Alberto Ramos, head of Latin America economic research at Goldman Sachs. "The country is getting increasingly socially and politically polarized and that's not good."
Related: New twists in Brazil's political intrigue
Another looming question is whether the actual Olympic facilities will be ready, given how much of the country's attention has been taken up by the political turmoil. And Rio's organizers have already had their purse strings tightened recently: in January the operating budget for the games was slashed by $500 million to $1.85 billion.
With so many unresolved issues, uncertainty looms large over the Olympics.
"I can't think of an Olympics that's been played out against such a volatile political and economic backdrop," says Neil Shearing, chief emerging market economist at Capital Economics.
--CNN's Marilia Brocchetto contributed reporting to this article