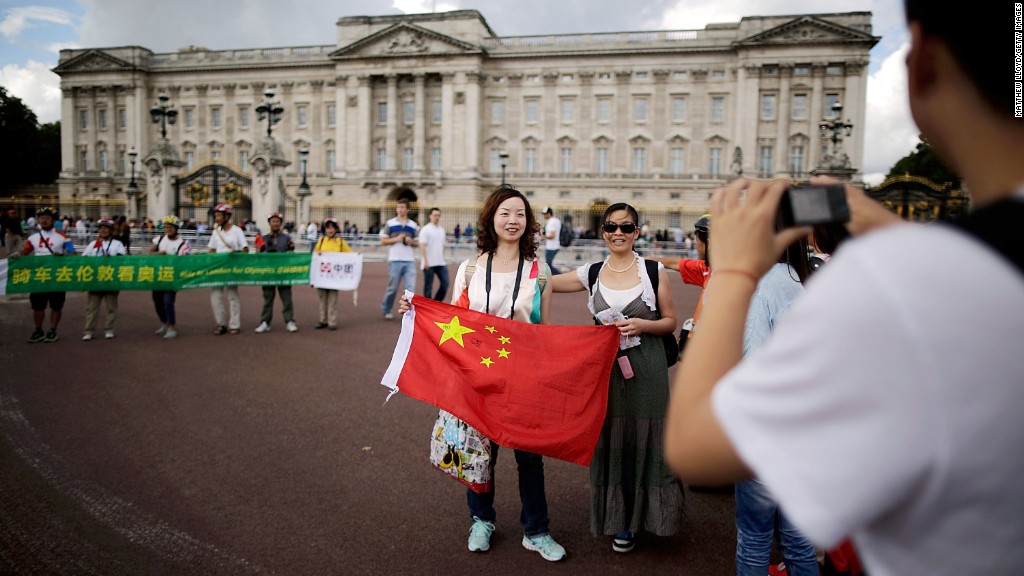 China's growing middle class is splashing record amounts of cash on foreign holidays, boosting economies as far apart as Japan and Iceland.
Chinese tourists spent $215 billion abroad last year, 53% more than in 2014, according to a report from the World Travel & Tourism Council. That's more than the annual economic output of Qatar, and Chinese tourists are now spending way more than anyone else, including Americans.
The number of Chinese tourists traveling internationally has more than doubled to 120 million people over the last five years, according to data from the China National Tourist Office and WTTC. That means one in every 10 international travelers now comes from China.
"The growth of Chinese [tourists] traveling abroad has been extraordinary," David Scowsill, CEO of WTTC, told CNNMoney. "A lot of this growth is stimulated by more and more people coming into the middle class."
Middle class market
Chinese people tend to begin traveling abroad once their household earns about $35,000, Scowsill said. Between 2003 and 2013, about 21 million households crossed that threshold, he said. Another 61 million households are expected to achieve those earnings by 2023.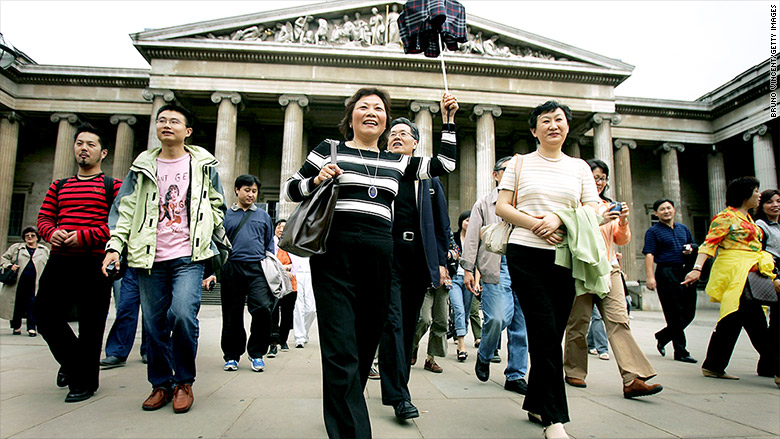 China's tourism boom is partially a result of government initiatives to encourage travel, such as building new airports. It's all part of a bigger government plan to boost consumer spending and make the economy less dependent on manufacturing.
Venturing further afield
Chinese people tend to prefer traveling around Asia when they first set foot outside the country, but lately they've become more adventurous and are going further afield, said Scowsill. Europe and the U.S. are popular options.
Older travelers tend to prefer organized group trips, but the Internet-savvy younger generation prefer to strike it out on their own, said Scowsill.
Related: Taco Bell to open first store in China
The boom in Chinese travel has hugely benefited Japan, leading to a 49% jump in revenue from foreign visitors in 2015, according to WTTC data.
"It's almost taken the Japanese by surprise by how successful they've been," said Scowsill. A fall in the value of the Japanese currency has attracted foreign tourists.
Iceland is another country whose economy is getting a lift from an influx of Chinese visitors. WTTC data shows Iceland's travel and tourism sector grew by 19.4% in 2015, significantly outpacing the overall economy.