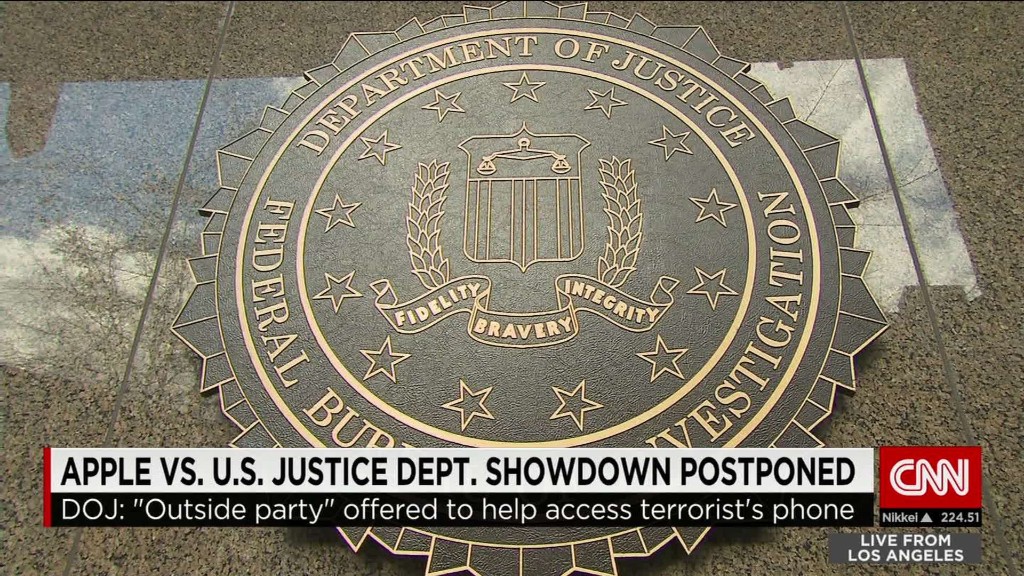 Apple's closely watched fight with the FBI over a San Bernardino terrorist's iPhone may not take place after all. But the bigger battle is far from over.
The company is opposing similar demands by the feds in at least a dozen other active cases. Court orders in those cases require Apple to help law enforcement bypass the security of suspects' iPhones.
The dozen cases all boil down to this question: How far does the law go to compel a tech company to help the government access information stored on a locked gadget? The government cites a 1789 law used to fill in the gaps of other, more explicit laws: the All Writs Act.
Apple has already won one such court battle.
In a district court in Brooklyn, magistrate judge James Orenstein ruled a month ago that the Department of Justice could not use the All Writs Act to make Apple help it break into an iPhone belonging to a suspected drug dealer.
"The implications of the government's position are so far-reaching -- both in terms of what it would allow today and what it implies about Congressional intent in 1789 -- as to produce impermissibly absurd results," Orenstein said in his ruling.
Yet because of the case's details, it's unclear if the Brooklyn ruling will ultimately resolve the overarching debate.
The suspected Brooklyn drug dealer's iPhone 5S was running iOS 7 -- an older, less secure version of the iPhone operating system. As a result, the magistrate judge ruled that the Justice Department likely could get much, if not all, of the information it sought without ever entering the passcode -- and without Apple's help.
The DOJ appealed the ruling. In a sign that the Brooklyn case could become a bigger battle, high-powered Apple lawyer Theodore Boutros announced Friday that he would represent Apple in the case. He is serving as Apple's attorney in San Bernardino.
Related: Apple vs. the FBI ... in 2 minutes
Apple and law enforcement had high hopes that the San Bernardino case may resolve the debate. But that hit a potential snag on Monday, after the FBI said it might be able to crack open the iPhone 5C used by San Bernardino shooter Sayed Farook without Apple's assistance.
The Justice Department has until April 5 to notify the court whether it succeeded in breaking into the iPhone. If it can do so without Apple's help, the case may not need to go forward.
It's not clear if any of the dozen or so other cases will help answer the central question either. Information about those other cases is hard to come by, since most are under seal, so it's still unknown what kind of iPhones the FBI is trying to break into.
Newer iPhones are harder -- if not impossible -- for law enforcement to unlock.
A spokesman for Apple (AAPL) said the company would not provide information about its other pending legal battles.
Apple's encryption fights aren't happening only in federal court. State prosecutors also need to get information from phones to complete criminal investigations.
Manhattan District Attorney Cyrus Vance testified before a House committee last month that his office failed to access data of more than 205 iPhones. The majority of them are iPhone 6 or later models, which have much stronger encryption than older ones.
That's why Vance has become a vociferous advocate for clarity -- either from the courts or legislators -- about the legal limitations of search warrants when it comes to encryption.
Ultimately, if it wants to avoid these legal fights in the future, Apple will have to make its phones more secure. If it builds an iPhone that even it can't break into, then it couldn't help law enforcement get past a suspect's passcode.